If you ask anyone what it was like playing the recorder in school, the first comment that comes to mind is "embarrassing." This can be further emphasized when you go off-key and make some god-awful sounds. But that doesn't seem to faze Lizzo, who, for some reason, somehow made playing this woodwind instrument sound cool.
Lizzo is currently in Sydney, Australia, as she headlines this year's Splendour in the Grass music festival. During her free time, this professional flute player showcased the extent of her talents when she shared a video on TikTok, playing an instrument that many of her fans struggled with when they were still in school.
While everyone (including me) struggled to play this simple instrument during their younger years, Lizzo flawlessly performed the intro to Celine Dion's "My Heart Will Go On." You've undoubtedly heard similar renditions of the Titanic tune if you've spent even a shred of time in the meme-ier corners of the internet, only in this instance, Lizzo nailed it.
It's important to note that this isn't one of those cheap toy recorders. At first glance, Lizzo's instrument looks similar to the ones some school students had to purchase for the school year. Many were envious to see someone play a recorder and not sound like a fool. At the same time, there were requests to have Lizzo perform "Hot Cross Buns," just to see if she could do something that many former school students couldn't.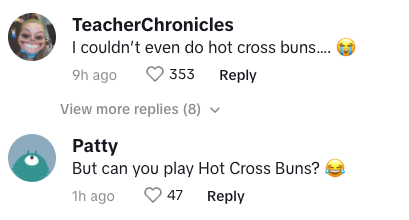 This isn't the first time Lizzo has showcased her woodwind-playing talents. The singer brought out a flute during the Melbourne leg of her 2023 tour. She was also given the opportunity to play a 200-year-old Crystal flute in Washington, D.C., which once belonged to former US president and Founding Father, James Madison.
Hopefully, Lizzo will hear the people's cries and show off what "Hot Cross Buns" is meant to sound like.