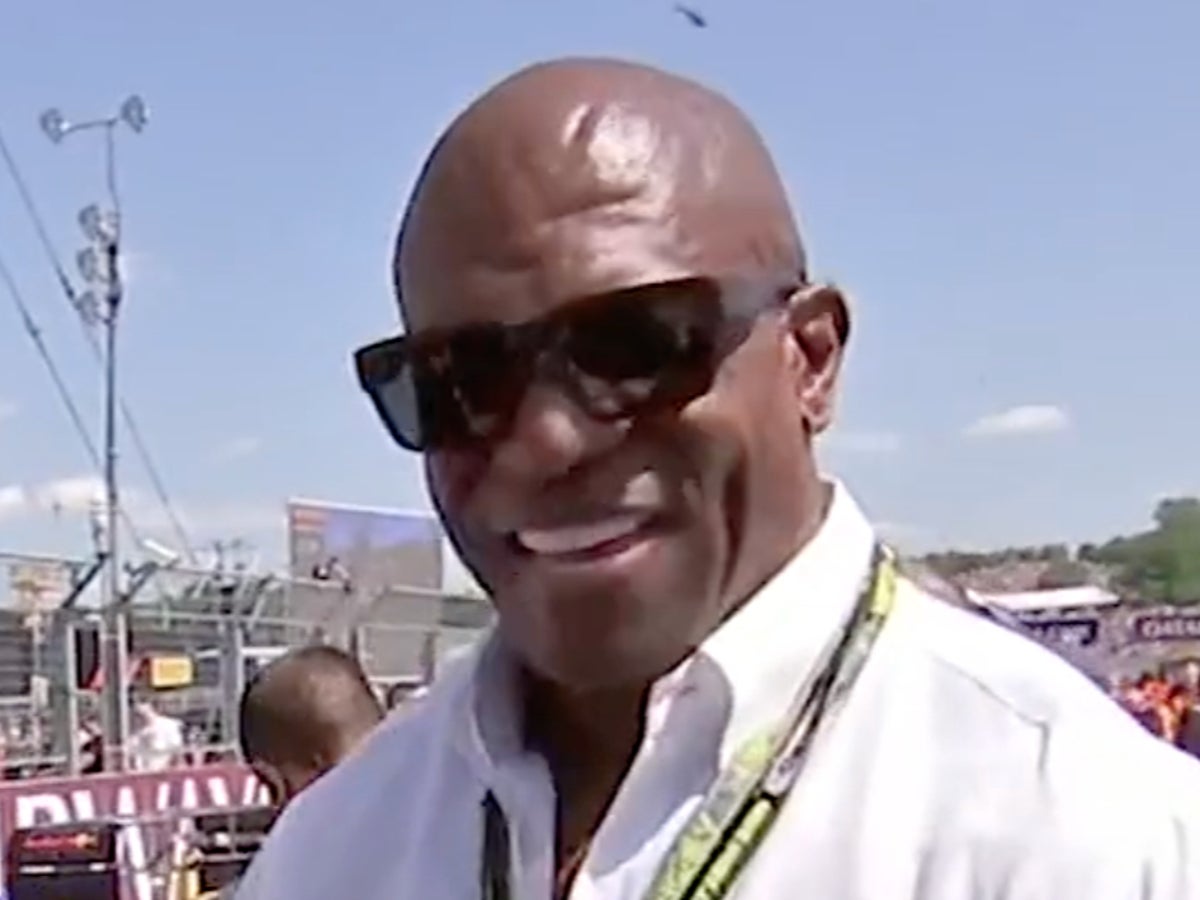 Terry Crews has been praised for his energetic interview at the Hungarian Grand Prix.
Sky Sports' Formula One host Martin Brundle finally convinced a Hollywood star to stop and speak to him on the grid walk as he engaged the Brooklyn Nine-Nine actor in a conversation.
Unlike Cara Delevingne earlier this month, Crews, who also stars in the Expendables franchise, was more than happy to talk to Brundle – and the muscular actor also popped his pecs for the interviewer.
Crews explained how he was happy to be at the sporting event, and was learning details about the science behind the cars. He then expressed excitement about the F1 going to Los Angeles this October, and seemingly waited for a response from Brundle.
However, Brundle's attention had drifted, abruptly ending their interview while Crews was seemingly left hanging mid-conversation in the hope of speaking to Spanish racer Carlos Sainz Jr.
"Alright, good stuff," Brundle said after Crews's lengthy answer, walking away without thanking the actor. Crews brushed off the awkward moment by waving and smiling at the camera.
On Twitter, many praised Crews for showing other celebrities "how it's done".
Others said that Brundle didn't help himself when it comes to trying to get celebrities to talk to him on the grid. They noted that Crews was a willing participant, yet the presenter seemed uninterested in his answers.
Brundle primarily speaks to drivers, team principals and VIPs on the grid, but often makes headlines for his attempts to speak to celebrities who attend the Grand Prix.
After spotting Delevingne earlier this month, he approached the star to ask her some questions, but was instructed not to do so by a person whom he believed to be a member of her team.
In response, he said: "She doesn't want to talk? But everybody needs to talk on the grid, that's the deal now." He then asked Delevingne for a "quick chat", to which she said "no", adding: "I can't hear anything, sorry."
While many voiced their disapproval of Delevingne's actions, many of her fans supported her online. Delevingne herself responded to one such message of support, thanking them "for seeing both sides".