When it comes to infamous American serial killers, the name Albert DeSalvo is sure to pop up. Also known as the "Boston Strangler," DeSalvo allegedly murdered 13 women in the Boston area over a period of a year and a half, as well as committing a number of other sexual offences during that time and after the fact. His supposed victims ranged from teens to women in their eighties, but they were always women, and there were never signs of forced entry. Most of his victims were also sexually assaulted during their ordeal, before being strangled, usually by an article of clothing.
Although he was apprehended in 1967, questions about his murderous activities continue to this day, driven by the fact he recanted his confession. Because of the heinous nature of his alleged crimes and the mystery surrounding them, DeSalvo has been the subject of songs, documentaries, and feature films, including one staring Tony Curtis and Henry Fonda in the sixties, as well as a Hulu film which was released in early 2023. But what do we actually know about DeSalvo, and the crimes he is said to have committed? Read on to learn who was the "Boston Strangler," Albert DeSalvo.
DeSalvo's early life
Like many famous serial killers, DeSalvo's childhood was marked by instability and violence. His father, Frank, was an angry drunk who would regularly abuse his wife, Charlotte, in front of the kids. He would also bring home sex workers and engage in lewd acts with them in front of his family.
DeSalvo also hit many other serial killer clichés, like torturing animals and turning to crime at an early age. He was first arrested before he hit teenhood, and spent his youth in and out of a juvenile facility named the Lyman School for Boys. He then joined the armed forces, and was honorably discharged after his first tour. He re-enlisted for another tour, from which he was again honorably discharged, although some claim he was also tried in a court-martial during this time.
DeSalvo returned to civilian life as a military police officer.
DeSalvo's crimes and capture
DeSalvo targeted single women throughout his killing spree, which lasted between June 14, 1962 and Jan. 4, 1964. His youngest victim was 19, and the oldest 85. During this time he also committed numerous sexual assaults. DeSalvo didn't always strangle the women to death, with two being stabbed, and the oldest dying of a heart attack.
His 13 victims were as follows: Anna Sleserss, Mary Mullen, Nina Nichols, Helen Blake, Ida Irga, Jane Sullivan, Sophie Clark, Patricia Bissette, Mary Brown, Beverly Samans, Evelyn Corbin, Joann Graff, Mary Sullivan.
On Oct. 27, 1964 DeSalvo, clearly attempting to engage in more criminal activity, made a couple of mistakes. Early in the evening, he posed as a motorist with car trouble and tried to enter a home in Bridgewater, Massachusetts. However, the homeowner Richard Sproules, who would later become the police chief of Brockton, was suspicious of the stranger and allegedly fired a shotgun at him. Later that evening, DeSalvo gained access to a young woman's home by posing as a detective, where he proceeded to tie her up and assault her. Her description of the assailant later led to DeSalvo being identified as the rapist.
At this point, the police hadn't connected the murders with a number of other rapes, which were perpetrated by someone they dubbed the "Green Man." Believing DeSalvo to be this "Green Man," cops questioned him about his activities, only for him to confess that he was the "Boston Strangler." DeSalvo confessed twice, once under hypnosis and once during an interview with the assistant attorney general John Bottomly. He is also said to have confessed to a fellow inmate.
Although there was no physical evidence to help lock up DeSalvo, during his confession he was able to list off details about some of the murders that hadn't been made public. Even though there was lots of circumstantial evidence pointing to him being the strangler, DeSalvo originally stood trial in 1967 for the "Green Man" crimes. His admission of the strangler murders was used by his lawyers in an attempt to claim insanity, but it was ruled inadmissable by the court.
DeSalvo's imprisonment and murder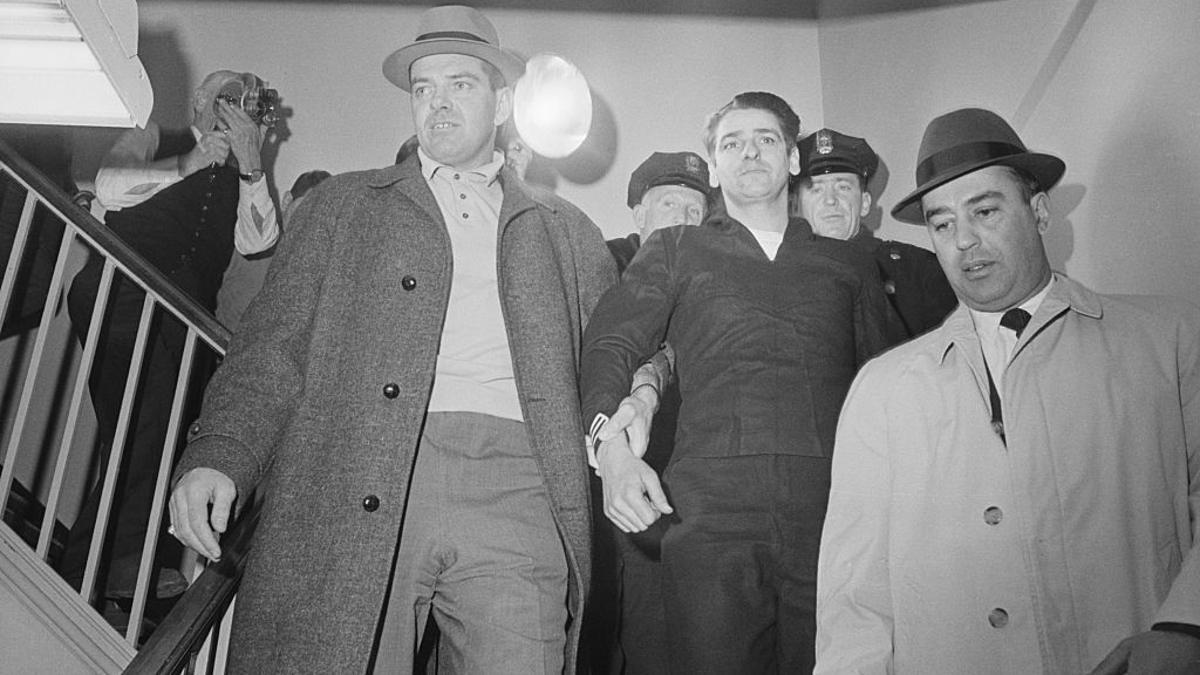 DeSalvo was sentenced to life in prison in 1967. He was sent to Bridgewater State Hospital but escaped in February, leaving a note on his bed claiming that the escape was to highlight the poor conditions for inmates in the hospital. He later turned himself in, at which point he was transferred to a maximum security prison called Walpole. Here, he recanted his strangler confessions.
In 1973 DeSalvo's lifeless, stabbed body was found in the prison. A fellow inmate was tried, but the trial led to a hung jury. Some have speculated that DeSalvo was murdered for selling drugs and undercutting the gangs who usually ran the narcotics trade in the prison.
Was DeSalvo guilty?
We know for sure that DeSalvo was guilty of numerous crimes that made it vital he was locked up in some way. However, because of the strange way he confessed, and his later recanting of his confession, there is a question mark around whether or not he committed all the crimes that are attributed to him.
Although there was no DNA evidence linking him to the crimes at the time of his capture and imprisonment, in the nineties detectives used DNA evidence to conclusively link him to the death of the final victim of the strangler, Mary O'Sullivan. She was just 19 when he raped and killed her.
With that said, the sheer range of the victims of the strangler hint at different killers being involved, as serial killers of DeSalvo's kind tend to target victims based on specific characteristics. The women who DeSalvo is alleged to have killed were vastly different in age, appearance, ethnicity, and even socio-economic status. People who knew him have also commented they didn't think he was the right personality type to commit the murders, but then again people are terrible judges of others, so that's not really great evidence.
The final piece of evidence that makes it harder to be sure of DeSalvo's guilt is that his confessions, while full of information the public wouldn't have known, were also inconsistent and occasionally wrong. Many family members of the victims believe that DeSalvo wasn't the one who murdered their loved ones, and have been searching for justice ever since.