Tristan Thompson's brother is klarifying!
In case you missed it, this week's season three finale of The Kardashians covered the sudden death of the 32-year-old basketball player's mother, Andrea Thompson. During the episode, Khloé Kardashian opened up about the tragedy, revealing she became Tristan's "support system" during the tough time despite their tumultuous relationship. The Good American founder even let the athlete and his teenage brother Amari Thompson live with her after his roof caved in due to the severe weather in California. Tristan even thanked KoKo, Kris Jenner, and Kim Kardashian for their help with everything, saying:
"Thank you so much, especially from me, my family [including third brother Daniel Thompson]. I don't know what I do without you guys right now, like coming to my mom's house, and packing up, and going through photos. Cleaning up her condo, and then getting Amari his suit for the funeral. You guys are so busy, you guys have so much businesses going on. Honestly, I don't know, I just hope God continues to keep blessing you guys with anything you want. That's what my mom would want."
Related: Why Tristan Is Getting Dragged Over Birthday Tribute To Son Tatum!
There were some truly heartbreaking moments from this episode that no doubt many fans empathized with. However, there was one person this plotline didn't seem to sit well with Tristan's brother Dishawn Thompson. He took to Instagram Stories after the episode aired to blast Khloé and her loved ones, saying "Death for a storyline" and "Don't believe everything you see or hear on social media. 95% is a lie." Naturally, people took this as a jab at Khloé and the Kardashian family for exploiting their mother's death for the sake of the show. We'd really hate to think that was the case here.
But it appears Dishwan is now walking back on his previous statements! He took to Instagram Stories on Friday night to insist his comments were not aimed at the KarJenners:
"Y'all chill out that wasn't towards Khloe or her family. Khloe been a real one toward myself and my bros from day1. i wouldn't try to bash a female down ever and especially on social media. Please don't speak for me. #BigCoach"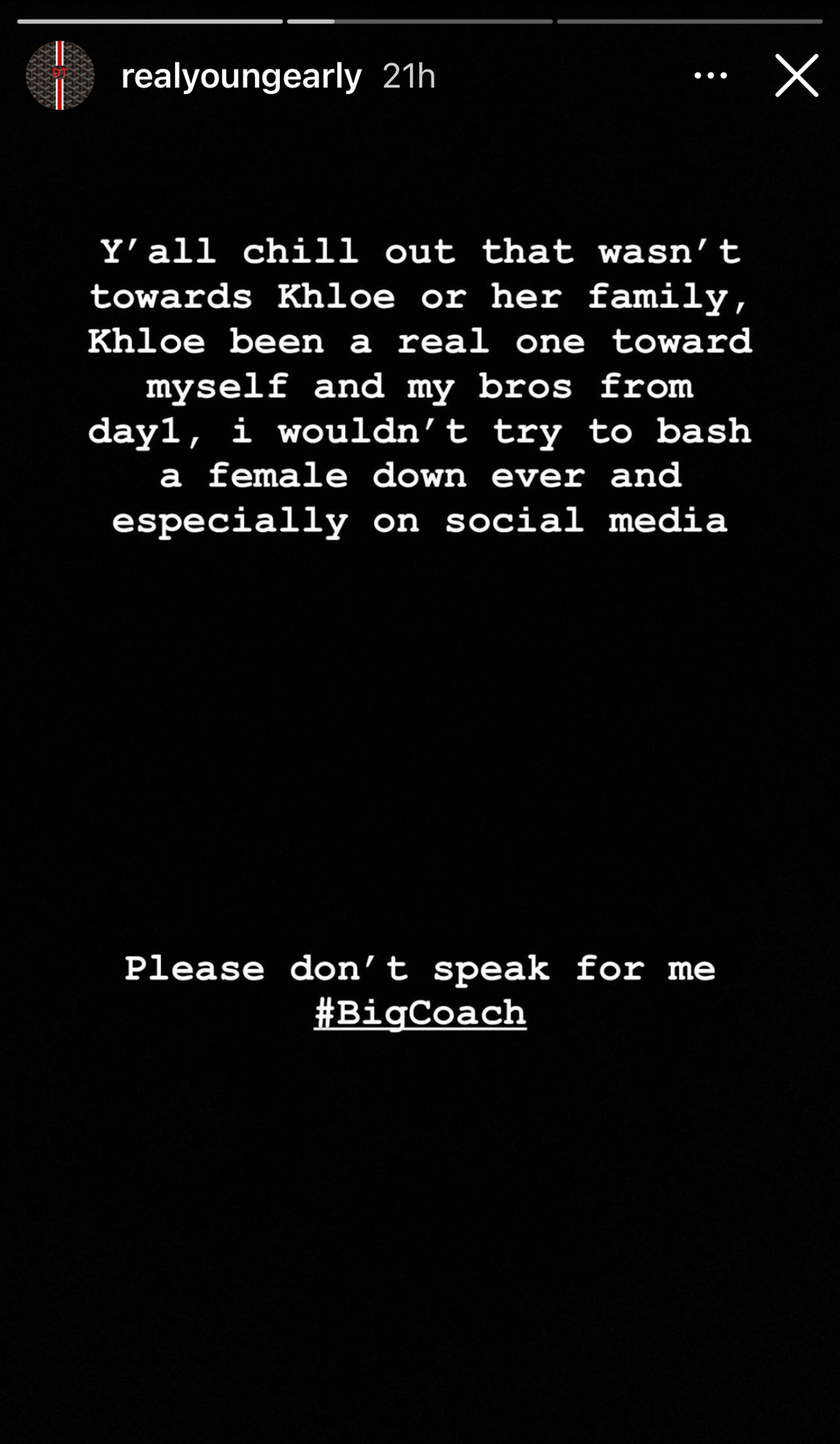 Umm… Who else would he have been referring to using death as a storyline then? Was this meant to be directed at Tristan instead? Or was this never shade at all and he was meant to be defending the famous family in response to others saying they were exploiting their mom's death as a storyline? Fans need some more klarification here!
At this time, neither Khloé or Tristan have reacted to the Dishawn's comments. But what are YOUR thoughts on the situation, Perezcious readers? Let us know!
[Image via Hulu/YouTube, Dishawn Thompson/Instagram]