RIO DE JANEIRO (CelebrityAccess) – Taylor Swift releases handwritten note after 23-year-old fan Ana Clara Benevides Machado passed away before the global superstar's Eras Tour show in Rio de Janeiro Friday (November 17) night. Her cause of death was cardiorespiratory arrest, per Brazil's Folha de S. Paulo. Per the newspaper, Ana had fainted and was sent to a hospital, where she later passed away.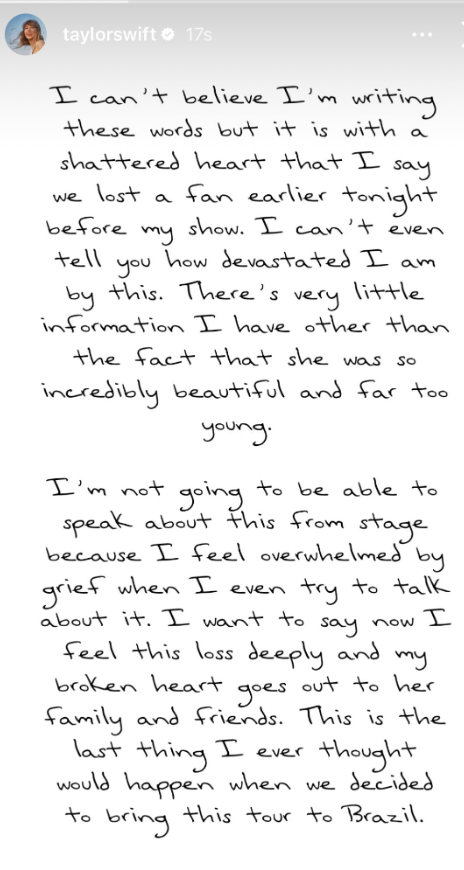 Time4Fun, the show's organizer, released a statement that medical personnel took her to a first-aid center and then to a hospital, where she died about an hour later.
Unfortunately, Swift's show occurred on a night of extreme temperatures in Brazil amid the forecasted heat wave. Around 1,000 fans reportedly fainted at the event, with some suffering from severe dehydration.
According to Huffpost.com, Rio saw its heat index (temperature and humidity) hit 58.5 degrees Celsius (137 degrees Fahrenheit) on the Tuesday before her show – marking the city's highest heat index ever recorded.
Swift appeared to even have breathing problems while on stage, but she heard the chants of her fans when they called for water, saying, "Sorry, it's just it's very hot, so when somebody says they need water when it's this hot, they really need it," she said from the stage.
In light of Ana's death, Swift has postponed her Saturday (November 18) show in Rio due to extreme temperatures, according to her message on Instagram (IG). She writes:
"I'm writing this from my dressing room in the stadium. The decision has been made to postpone tonight's show due to the extreme temperatures in Rio," the singer said in a handwritten note on Instagram. "The safety and well-being of my fans, fellow performers, and crew has to and always will come first."
Rio's Mayor Eduardo Paes said on X (formerly Twitter) that the "loss of a young woman's life … is unacceptable." Below, fans posted a video of Swift recognizing her fans needed help.
Taylor Swift helps fans chant "Water" in order to get security & staff to bring water to fans who were suffering of dehydration.

The stadium where the Brazilian show was held banned fans from bringing water bottles.

— Pop Crave (@PopCrave) November 18, 2023
The cause of death for Ana is now being investigated by the office of Rio's public prosecutor, who released a statement saying that Ana's body was being examined.