San Diego Comic-Con might have had one of its weirdest-ever years, thanks to the Hollywood strike and subsequent lack of studios or stars at the event.
But weird isn't the same thing as bad. Even amid the reduction of formerly front-and-center spaces to afterthoughts, some long-overlooked pillars of SDCC had an incredible week — as did the fans.
Yep, it's time to rank the winners and losers of San Diego Comic-Con 2023 y'all. Who made the list? And more importantly, how? Read on to find out.
Note: You'll notice this list has more winners than losers. Despite how odd it was, SDCC 2023 was a real good time.
Winner: SAG-AFTRA and the WGA
Sitting out comic-con was a huge move by SAG-AFTRA members, and one that very clearly worked as designed. Though the absence of major stars was certainly felt, most fans were supportive of the strike, with vendors and creators perhaps even more so, and the guilds' message was definitely heard.
"I was wondering when we got here if there would be a lot of people who are frustrated with us because of the impact on panels and stars coming here. But the contrary," SAG's chief negotiator Duncan Crabtree-Ireland told TheWrap.
"The message that I got," he said, is largely "'We support you.' And I think it comes from the fact that these fans care about the performers who created these worlds for them, and they don't want to see them abused or mistreated by these companies. And there has been such supportive solidarity that it's really it's been a great thing."
Loser: Poor Hall H
The strike turned Hall H into a ghost town this year, as it was practically vacant for long stretches throughout the week. The photo above was captured by TheWrap on Thursday morning, shortly before one of the few panels in the hall started.
Most any comic-con goer knows that, in a typical year, Hall H is somewhere that fans camp out for, lining up days in advance to get in. And, once they're in, they often don't leave. Well, you don't have to leave if you never show up.
In short, an empty Hall H is deeply unsettling (even to Hall H itself). Better luck next year!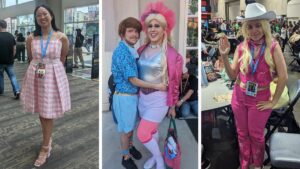 Winner: Comic Book Creators
2023 will go down as the year San Diego Comic-Con went back to its roots to celebrate comic books, and especially their creators.
"Comics were front and center at this years comic-con," James Viscardi, an editor for ComicBook.com, told TheWrap. "The floors were full, we had big announcements like new projects…and so much more. The buyers were buying, and not just exclusives; there was massive amounts of foot traffic at original art tables, artists alley and at the comic book vendors."
Indeed, several artists told TheWrap that this week they saw their best SDCC sales in years.
Loser: Ancillary Businesses
While SDCC was as packed with fans as ever, the lack of celebrities and studios — i.e. people with real money — caused headaches for the myriad businesses who regularly make bank during the weeks.
Read here for how one of them — a luxury car service — dealt with it.
Winner: Barbie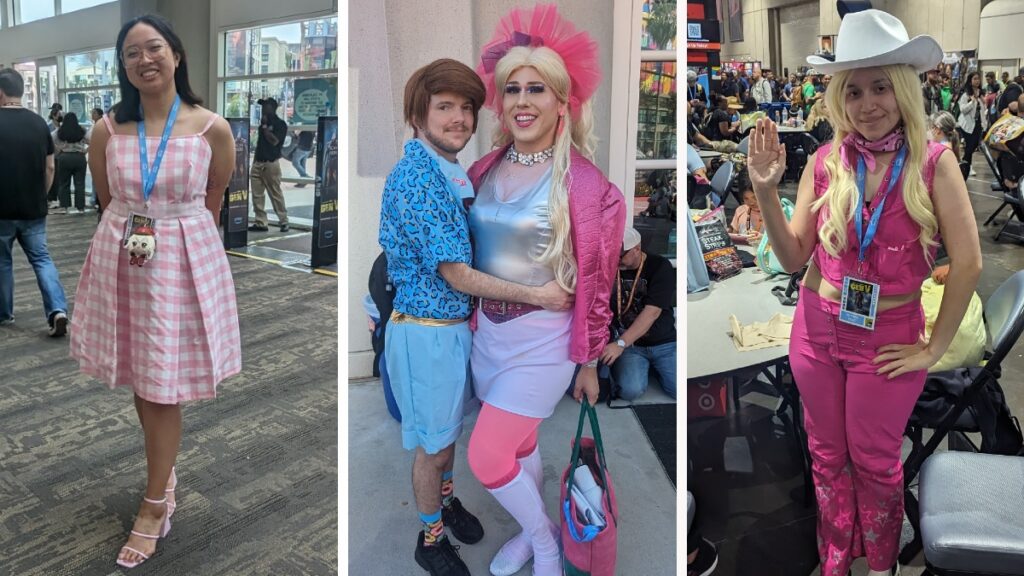 "Barbie" didn't just win the box office in its opening weekend, it also won comic-con — and in more ways than one.
First and foremost, there was the cosplay. Barbie was undoubtedly the most popular costume choice across the weekend, thanks to the many different outfit possibilities in her dream closet. (Most people went with glam cowgirl Barbie, but there were a few Weird Barbies, which you can see here).
But Barbie also seemingly dominated the discourse throughout the con. Whenever a Barbie was spotted, what immediately followed a chorus of "Hi Barbie!" was the question of whether they'd seen the film, or when they were going.
With no huge news coming out of comic-con, the focus was largely on "Barbie" and its performance.
Winner: Cosplayers
See more here.
Loser: Warner Bros. Discovery
Though "Barbie" was a big winner this weekend, Warner Brothers Discovery notched a huge L via a missed opportunity to bring "Blue Beetle" to the event, even if just for a fan screening.
Beyond a display of the hero's suit at the DC booth on the show floor, the movie — set to release on August 18 — had virtually no presence.
Winner: The Streamers (and FX)
Paramount+ and Amazon wallpapered the convention and the buildings surrounding it with ads for their upcoming shows, and also, along with fellow streamers like Hulu and anime-powerhouse Crunchyroll, largely dominated the nearby activations.
And as always FX (which straddles the line between cable and streaming) delivered a delightful activation, with sections devoted to "What We Do in the Shadows," "A Murder at the End of the World," "American Horror Story" and the upcoming "Shogun" adaptation. The latter's section included a corny, but somehow still also awesome performance by Samurai reenactors that looked especially cool at night.
So, though their core stars weren't present at the conventions, their actual titles still got heavy exposure — perhaps the smartest way to have gone about such an unusual year.
Loser: Claustrophobics
San Diego Comic-Con 2023 was as packed with people as ever, and because there were no Hall H panels to tempt them, they swarmed on the main convention floor. It was the most packed any of us have seen in years and even Sunday saw crowds that felt more like Friday and Saturday. RIP anyone who needs space to breath.
Winner: HerUniverse
In a year where most comic-con staples were gone or adjusted, HerUniverse remained, and stronger than ever.
To kick off their 9th annual fashion show, HerUniverse founder Ashley Eckstein dedicated the event to SAG and the WGA, informing fans that she triple-checked with the unions, and the event was not only approved, but encouraged.
As always, the show was full to capacity, and celebrated 100 Years of Disney as its theme. There were old school Disney channel bangers on the playlist, live performances, and even swag galore.
Winner: Video Game Companies
With traditional movie studios and TV networks skipping SDCC this year, video game companies stepped up and financed this year's bashes.
The former sponsored the Fandom party which, with the cancelation of EW's annual bash, arguably became the biggest party of the weekend. Meanwhile, Armored Core sponsored IGN's party at the Hard Rock this year.
Additionally, "Marvel's Spider-Man 2," Insomniac's next game in the popular series, was one of Hall H's biggest panels of the weekend.
Winner: Skybound Entertainment
Robert Kirkman's Skybound Entertainment dropped an Atom Eve "Invincible" episode at SDCC this year, along with the announcements of new "G.I. Joe" and "Transformers" comics
You can get a full rundown of what happened at the panel here.
Winner: Paramount
After having a successful 2022 Comic-Con where the studio plugged "Dungeons & Dragons," Paramount became the only legacy studio in town to take the Hall H stage.
There, they promoted 20 minutes of exclusive footage from "Teenage Mutant Ninja Turtles: Mutant Mayhem." You can relive some of that panel here.
Winner: LEGO
In a year where the major stars and studios sat out comic-con, LEGO still celebrated movies, with an entire "Brickbuster" booth (a play on Blockbuster).
Anyone who stopped by the booth was able to re-create their favorite movie cover, which would then be displayed on Brickbuster's shelves. And while waiting, they can enjoy the cases displaying upcoming or classic build sets based on "Super Mario Bros.," "Hocus Pocus" and more.
But to be real with you, the best thing about Lego's booth this year was the chance to build your own SDCC-exclusive minifigure. Yep, that's the one we made above, and yep, it's great.
Really, it was just a fun time, for kids and adults alike.
Loser: Anyone who hates sweating
No really. San Diego was hit hard this week by uncharacteristic heat and horrific humidity, punctuated by weird spots of cold and rain that somehow still included crushing humidity.
How humid was it? Reliably over 85%.
Guys, what we're saying is that it was freaking disgusting, making an otherwise beautiful city feel like torture. We're shocked we didn't leave with trench foot. YUCK.