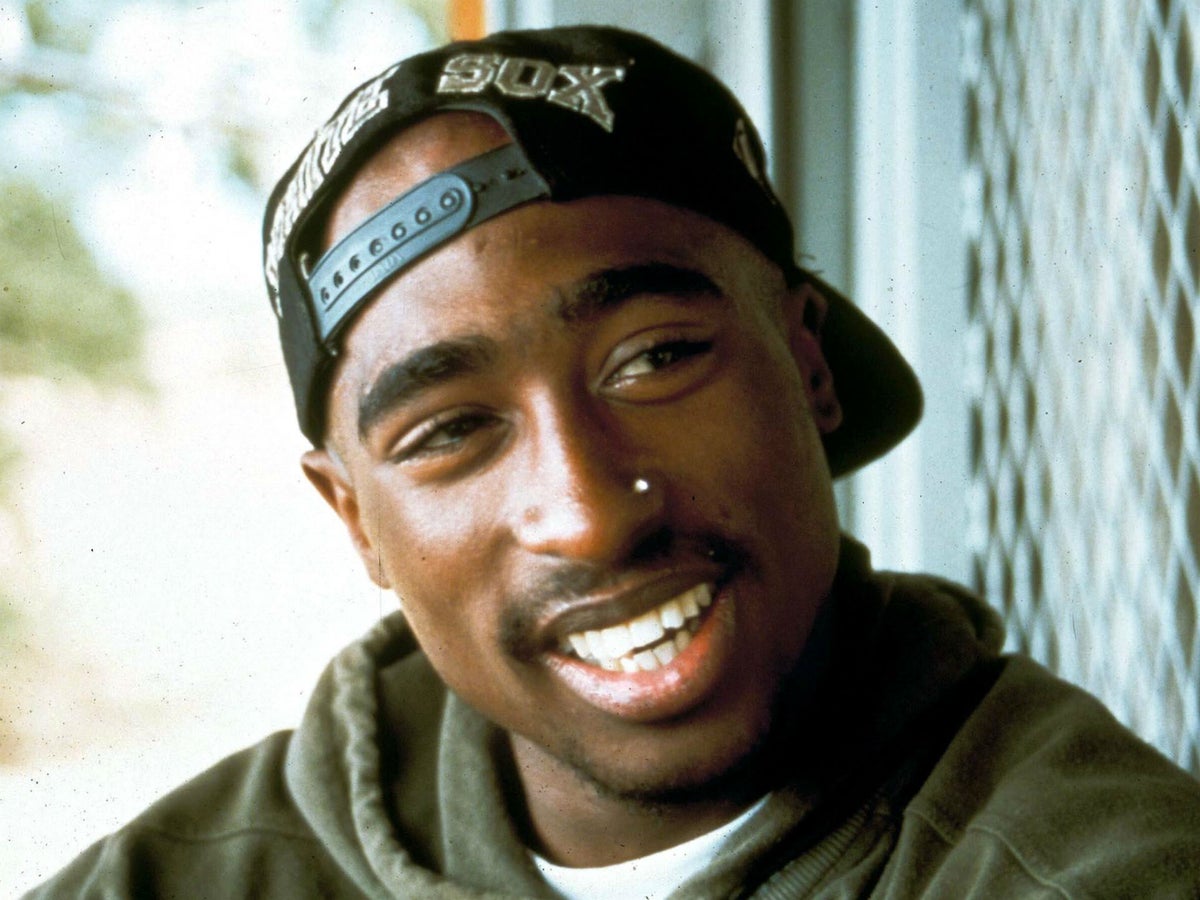 Tupac Shakur, one of gangsta rap's greatest icons, was mortally wounded in a drive-by shooting in Las Vegas, Nevada, on the night of 7 September 1996.
The black BMW 750 sedan he was riding in with Death Row records boss Suge Knight was suddenly fired upon from a rented white Cadillac that had pulled up longside the vehicle, as it idled at traffic lights at the intersection of Flamingo Road and Koval Lane.
Tupac, 25, had failed to notice the danger as he flirted playfully with a carload of female fans on the passenger side of his car.
He was hit four times as the mystery gunman fired 14 shots from a Glock semi-automatic pistol, with one bullet tearing through his right lung.
He died of internal bleeding in the intensive care unit of the University Medical Center of Southern Nevada six days later.
His murder has never been solved and no arrests have ever been made.
Now, 27 years later, the Las Vegas Metropolitan Police Department has executed a raid on a property in Henderson, a city 15 miles southeast of the gambling paradise, unexpectedly blowing open one of the 20th century's most infamous cold cases.
Police are remaining tightlipped as to what has suddenly led to this development.
Tupac's murder has long been blamed on the escalating East Coast-West Coast hip-hop rivalry of the 1990s – a rivalry which would also claim the life of Shakur's friend-turned-rival Notorious BIG in Los Angeles on 9 March 1997.
But, in the absence of any concrete answers as to what happened to the hip-hop icon, conspiracy theories have filled the void over the past three decades.
Here are some of the most common – and most bizarre theories around Tupac's death:
Theory: Biggie Smalls set up Orlando 'Baby Face' Anderson to pull the trigger
Chuck Philips, an investigative reporter with The Los Angeles Times, spent a year researching Shakur's killing and published his article "Who Killed Tupac Shakur?" on 6 September 2002.
Shakur had attacked Orlando "Baby Lane" Anderson, 21, earlier that evening in the lobby of the MGM Grand Hotel after both men had attended a sold-out boxing bout between Mike Tyson and Bruce Seldon.
One of Knight's entourage, who belonged to the feared Los Angeles gang the Bloods, had pointed out Anderson, a member of the rival Crips, and claimed that he had been responsible for attempting to rob one of Shakur's bodyguards at a mall in Lakewood, California, earlier that year, stealing a medallion as a calculated insult.
The ensuing assault on Anderson by the rapper and his minders was caught on the MGM Grand's surveillance footage.
After that, Shakur headed with Knight to the fashionable Club 662 night spot – a journey that would be his final ride.
Mr Philips wrote that the shooting was carried out as revenge for the casino attack, with Anderson himself firing the fatal shots.
The murder weapon, the journalist alleged, had been provided to Anderson by the Notorious BIG AKA Biggie Smalls AKA Christopher Wallace, who had agreed to pay a $1m bounty for Shakur's death after becoming enraged when Tupac responded to his 1994 diss track "Who Shot Ya?" with "Hit 'Em Up", in which he bragged about sleeping with Biggie's wife Faith Evans.
Anderson would only be interviewed by investigating officers once and would likewise be killed in a seemingly unrelated gangland shooting on 29 May 1998.
A follow-up piece by Philips looked at the alleged mistakes made by law enforcement in the immediate aftermath of the slaying.
Theory: Suge Knight masterminded the hits on both Tupac and Biggie
In his 2002 film Biggie and Tupac, British documentarian Nick Broomfield argued that the driver of the car – Suge Knight – in which Shakur was shot was the real puppet-master behind the incident, despite Tupac being the biggest star on his record label at the time.
Mr Broomfield interviewed ex-LAPD detective Russell Poole in the film, who claimed that corrupt officers helped Knight to cover up both killings.
Shakur's murder, he said, was carried out in response to fears that Shakur might leave Death Row to become an actor – on the calculation that he would remain commercially viable as a martyr after his death but would represent a business threat as a competitor. Biggie's murder, he claimed, was staged a year later to conceal Knight's part in the first.
The director's work has been dismissed as speculative, however, and the credibility of some of his sources called into question.
If Knight had planned the attack, unrelated to the Orlando Anderson fracas, he placed himself in considerable danger by being present in the BMW when the gunman opened fire and could surely have conceived of a less messy plot than a drive-by.
That said, the facts as they stand do leave him with the perfect alibi.
In 2017, Knight endorsed another documentary that implied that it was he, not Tupac, who was the real target of the attack, which alleged that his ex-wife Sharitha Golden and his former head of security Reggie Willis Jr had planned it all as part of a coup to assume control of Death Row.
Theory: Tupac is alive and well in Cuba
A man named Michael Nice, who claimed to have been part of Shakur's security team, insisted in December 2018 that the rapper was not dead after all.
Instead, Mr Nice said that he himself had played a role in helping to stage the drive-by and spirit his boss away to Cuba – with the support of the country's late leader Fidel Castro, no less, who retained a friendly respect for the rapper's former Black Panther aunt Assata Shakur, who had sought asylum in Havana in 1980 after escaping from prison.
But before Mr Nice could deliver the evidence he had promised to substantiate this unlikely story, he apparently died.
Sensationally, he then returned from the grave a year later to reveal that he had faked his own death just to prove it was possible.
Another friend of Shakur – Todd Anthony Shaw, who goes by the alias Too Short – has also said he does not believe the All Eyez on Me star is really gone, commenting: "I'm just saying that not every politician did not die of car crashes and some of them got killed. Some of those plane crashes were deliberate… It is a possibility. Believe me, it ain't just open and shut."
Mr Nice and Mr Shaw are not alone in their belief, however, with "sightings" of the dead man reported in such exotic locations as New Orleans, Somalia and Belize over the years, the funniest of which is surely a claim reported by The Daily Mirror that Shakur is not only alive and well but selling DVDs to earn a crust at Barras market in Glasgow, Scotland.
Theory: Tupac is alive and under CIA protection
Another bizarre theory is that Shakur is alive and living under the protection of the CIA as a government witness.
However, the agency has come out and flatly denied that speculation.
Despite this, the rumour continues to live on among the conspiracy-minded.
Adding further fuel to the fire is the theory that one of Tupac's nicknames – "Makaveli", in tribute to the Renaissance political thinker Niccolo Machiavelli – is actually an anagram of "Am Alive K".
It has also been pointed out that Machiavelli himself advocated faking one's death in his 1520 treatise The Art of War in order to win an advantage in battle, stating: "Sometimes it has been of great moment while the fight is going on, to disseminate words that pronounce the enemies' captain to be dead, or to have been conquered by another part of the army. Many times this has given victory to him who used it."
Believers also point to the fact that Shakur's posthumous album The Don Killuminati: The 7 Day Theory (1996) features a design by Ronald "Riskie" Brent of Tupac as Jesus Christ on the cover, who, of course, returned from the dead after his crucifixtion.