If we were only allowed to use one word to sum up San Diego Comic-Con 2023, it might just be: Odd.
Thanks to Hollywood's first double strike in 60 years, neither stars nor studios had any meaningful presence. That made Hall H, normally the site of the convention's biggest crowds, largely redundant. It also caused the cancelation of SDCC's biggest party, the annual star-studded bash EW throws atop the Hard Rock Hotel in San Diego's Gaslamp Quarter.
But as it turns out, the fans didn't need famous faces to justify swarming San Diego. If things seemed quieter on the city's streets, they were anything but inside the convention center itself. In fact, for the annual event's many artists and vendors normally overshadowed by Hollywood, it was their best con in years.
If you took the train down to San Diego from Los Angeles, it was hard not to think you were in for a very underwhelming five days. TheWrap's reporters took the 11 a.m. Surfliner to San Diego on Wednesday, a trip that in a normal year is just one of several standing-room-only parties. This time it was a sea of empty seats punctuated by the occasional person, and eerily quiet as if chatting to one of the few other passengers would provoke violent shushing. It was a lot like being in church.
Case in point, this is how things looked in our coach car just after we arrived at Santa Fe Depot, before anyone had disembarked.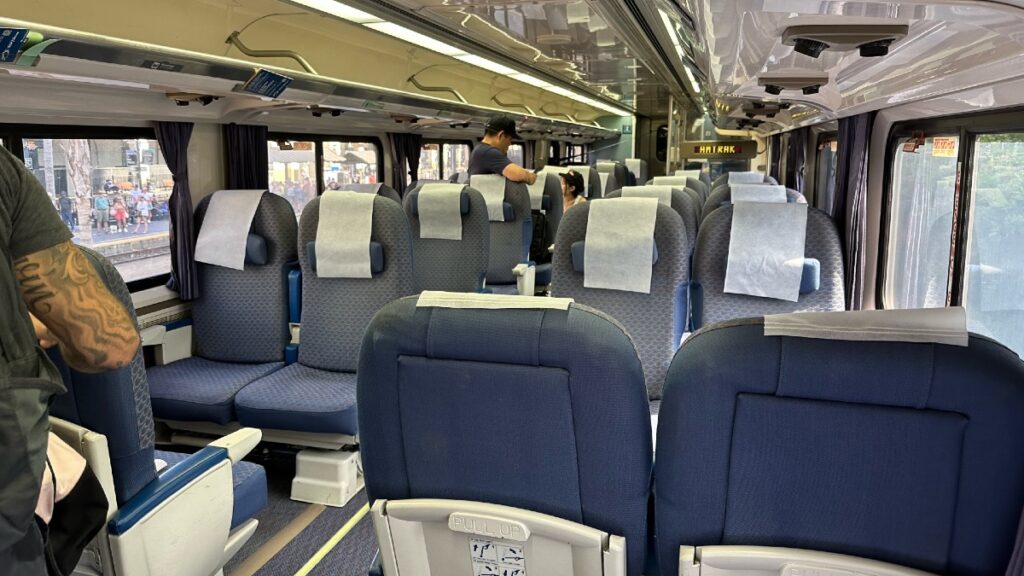 By now, you know that this was in some ways a sign of things to come, at least in Hall H which, as has been endlessly discussed, was for the first time in more than 15 years not SDCC's center of gravity.
Instead, lacking the usual spectacle to draw their attention, fans flocked to the convention floor instead. And that was great news for the people in Artists Alley.
Once upon a time, Artists Alley — the rows of booths where creators of all stripes but especially indie cartoonists chat with fans and (hopefully) sell some stuff — sat close to the middle of the main floor, making it an impossible-to-ignore symbol of why Comic-Con even exists.
Comic-Con International eventually relocated Artists Alley to the far eastern side of the main floor. Right on the other side of a wall from Hall H. Fans still visited but as one vendor told us on Saturday, it felt like being relegated to a "bargain bin." With major brands hogging the prime real estate in the middle, it got harder and harder to make a profit, let alone break even for Artist Alley creators.
As for 2023? Rachel Reed, who operates Reed's Custom Crafts, smiled like a Cheshire cat when we asked how things have been this week.
"Nothing has been better for artists Alley than the strike," she told us. Reid acknowledges that this might just be because SDCC passes are too expensive for most fans to discard if the celebrity lineup isn't good. Nevertheless, they showed up, and Reid joked, "I can pay my mortgage this month" as a result.
Artist Nikki Ward had a similarly bullish account of her week. "This year I had to make $2200 to break even," she said, "and I did that on the second day."
One artist we spoke with, Bryan K Turner, who said he also had a great week, speculated that the lack of big flashy panels sent people back to the showroom floor looking for something to do.
He also said there was another benefit too, as he was told more than once that people had attended smaller panels they might have otherwise skipped. All of them, he told us, "ended up having a great time."
Here's how things looked on Sunday, normally the slowest day of the con:
That's a Saturday-sized crowd on a Sunday, an almost unheard of phenomenon at Comic-Con and easily the most people we've ever seen on the last day of SDCC. It's plentiful evidence that despite what people have come to expect, Comic-Con itself is still the draw.
"Comic-Con was more crowded than ever before. The floor was more crowded than ever before. There were still multiple events and parties packed to capacity," one film producer told us.
"If there is one single summation, it would be that Comic-Con is now too big to fail, and that Hollywood needs Comic-Con more than Comic-Con needs Hollywood."