Spider-Man: Across the Spider-Verse introduced fans to some new villains, as well as different variants of baddies that appeared in Into the Spider-Verse and other Spider-Man titles. However, some characters didn't make the final cut, which makes sense considering how crowded the film already is.
Across the Spider-Verse's character designer, Kristafer Anka, shared five character designs for other possible villains for the feature. They were Big Wheel, Dr. Actual Octopus, Shocker, Beetle, and Mysterio. They weren't exactly the Sinister Six that fans were hoping for, but they were close enough. Nothing in the concept art showed which universe any of these villains came from, but one could guess that Big Wheel came from the same universe as The Vulture.
Fans were shocked at the missed opportunity to include these villains in the film, even if it was during that one scene in Spider Society where all the captured villains waited to be sent home to their universe. One concept that caught most fans' attention was Mysterio's design, with many theorizing that it could have been Ultimate Mysterio from Ultimate Spider-Man.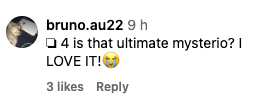 It's such a shame that these villains didn't see the light of day. But perhaps that's a good thing, considering that over 240 characters were featured in the sequel. Spider-Man: Across the Spider-Verse showcased a handful of villains, alongside its Spidey-people. One of them was Spot, a villain who can traverse across the multiverse and plans to kill Miles Morales' father. Others also include Miles' variant, who's a villain in his universe, and a live-action cameo of Donald Glover's Uncle Aaron.
Perhaps there's a spot saved for the scrapped villains in the threequel Beyond the Spider-Verse, which is tentatively scheduled for release in March 2024, provided it doesn't end up facing any delays.