SAG-AFTRA has released more details about how their strike will affect social media influencers, releasing an FAQ on its strike website ahead of San Diego Comic-Con this weekend.
The new rules are uncharted territory for Hollywood labor, as this is SAG-AFTRA's first strike on the TV/Theatrical contract since 1980. The actors guild just opened its membership to influencers in February 2021 after its leadership approved an "influencer agreement" that set the terms for online content creators who create sponsored and branded videos to join the union.
During the strike, SAG-AFTRA member influencers are still permitted to promote brand deals and continue to fulfill contractual obligations to promote struck film and television projects from Hollywood studios if the contract was agreed to prior to the start of the strike. However, union members are instructed to not accept any new promotional work from Hollywood studios.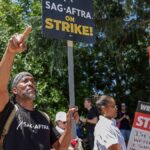 As for San Diego Comic-Con, SAG-AFTRA says that influencer members "cannot participate in conventions such as Comic-Con on behalf of, or to promote, companies we are striking against – this includes appearances, panels, fan meet and greets, etc. involving struck work."
Members are allowed to attend SDCC and other conventions "in ways that are wholly independent of characters from struck work or sponsorship by struck companies." This means that any cosplaying of characters from movies and shows like "Barbie," "Blue Beetle" or "The Boys" is off-limits, while cosplay from a video game like "The Legend of Zelda: Tears of the Kingdom" would be permitted.
And as is the case for the Writers Guild of America, actors and influencers who are not members of SAG-AFTRA and who do work for struck studios will be denied membership if they choose to apply for it in the future. The guild urges members and non-members to send questions to the guild via email if further clarification is required.
In the weeks leading up to the start of the SAG-AFTRA strike this past Friday, multiple film and television studios withdrew participation from San Diego Comic-Con, which usually hosts stars of current and upcoming movies and shows in its famous Hall H. Among the studios that pulled out include Marvel Studios, HBO, Netflix, and Universal.
Along with Comic-Con, SAG-AFTRA members are also pulling out of other promotional events such as film premieres and awards shows. This past weekend, the scheduled Disneyland premiere of "Haunted Mansion" replaced striking stars like Danny DeVito and Tiffany Haddish with theme park performers dressed as classic Disney villains, while Fox and the Television Academy are expected to announce a postponement of the Primetime Emmys in the coming weeks.