Spoiler alert: This article breaks down the plot and characters in "They Cloned Tyrone."
John Boyega got his first opportunity to play multiple roles in one project with "They Cloned Tyrone," a moment the British actor says had him in his "Eddie Murphy bag."
"They Cloned Tyrone," co-written by Juel Taylor and his writing partner Tony Rettenmaier, was the first time Taylor got to sit in the director's chair for a feature film. The movie also provided Boyega with a career first of his own: the opportunity to play different characters in a sole project.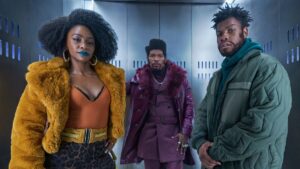 "It was fun, [I ] obviously approached all of them as individuals, and just made sure you're consistently speaking to your director, so you don't get them twisted," Boyega said, whose character in film, Fontaine, has been cloned several times by the government.
"Yeah, I do good improvisations at home, in front of the family, but that hasn't made it to the big screen yet. This is the first time I get into my serious Eddie Murphy bag," Boyega continued, referring to legendary comedian, who notably played several different characters in films including "Coming to America," "Norbit" and "The Nutty Professor."
At the end of the film, Fontaine and his crew, which includes Sick Charles (Jamie Foxx) and Yo-Yo (Teyonah Parris), discover the mastermind behind the government's insidious plot, and it turns out to be Fontaine — the original Fontaine, whom Boyega also portrays. 
During his preparation process, Boyega says extra preparation went into portraying who the film described as "older Fontaine."
"First, [it was] learning who he was as a person," Boyega said. "The dialogue was definitely heavy, and you know, working with my dialect coach Tangela Large to make sure that there was a distinct difference between those two characters. Then the rest of it is just having fun, being at ease and working with Juel." 
"They Cloned Tyrone" is now playing in select theaters and hits Netflix screens on Friday. 
These interviews were recorded prior to the SAG-AFTRA strike decision.