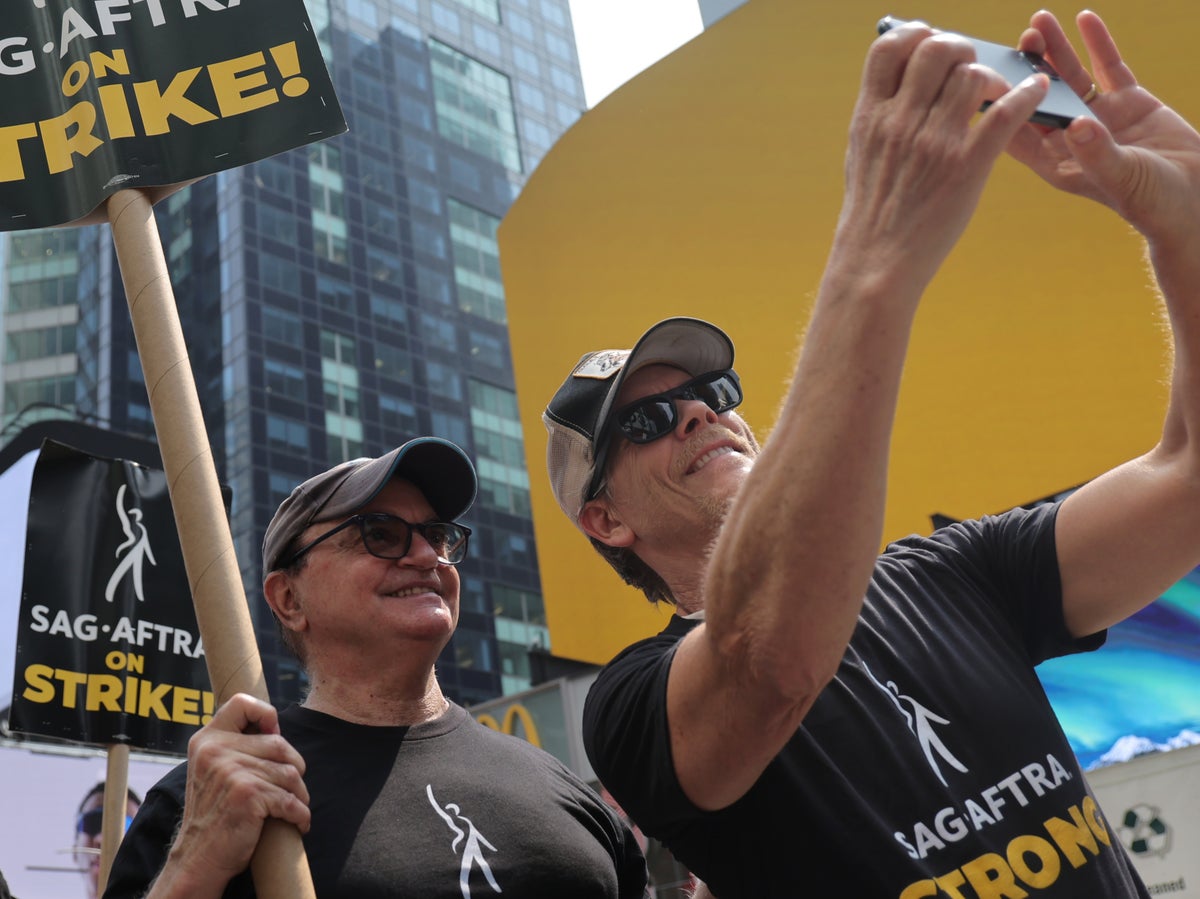 Kevin Bacon joined SAG-AFTRA members protesting in front of Paramount Studios' New York headquarters on Monday (17 July).
Follow along here for real-time updates on SAG-AFTRA's historic strike.
Bacon, 65, is among the latest A-listers to voice their support for the actors' union strike, which was initiated last Friday (14 July) over fair wages and other concerns.
"I think AI is a huge issue," the Footloose star told The Associated Press from the picket line.
SAG negotiators are seeking assurances that background actors' work will not be replaced by artificial intelligence (AI).
Listing "transparency" and "basic wage" among the union's other chief concerns, Bacon said that while he personally could "negotiate" his contracts, he was protesting for "the working class, middle class part of our union".
"[They] need these basic provisions in their basic contract," he said.
Bacon joins the likes of George Clooney, who said in a statement to press: "This is an inflexion point in our industry. Actors and writers in large numbers have lost their ability to make a living. For our industry to survive that has to change. For actors, that journey starts now."
Jessica Chastain, meanwhile, expressed her support on Twitter, writing: "The AMPTP refused to make a fair deal on television, theatrical and streaming work. We are not afraid of a fight and we will not back down. My union, SAG/AFTRA is now on strike."
Other actors with smaller profiles have been sharing their horror stories from the industry amid the strikes.
Final Destination star Devon Sawa, 44, took to Twitter to allege that he was never paid for his cameo in Final Destination 5, while Orange Is the New Black star Kimiko Glenn claimed that cast members on the show needed two jobs in order to survive.
Last Thursday (13 July), SAG-AFTRA's negotiating committee, which represents 160,000 TV and film actors, made the official decision to go on strike alongside the Writers Guild of America (WGA), who have been on the picket line since May.
"Union members should withhold their labour until a fair contract can be achieved," SAG National Executive Director and Chief Negotiator Duncan Crabtree-Ireland said in a press conference. "They have left us with no alternative."
The AMPTP says it presented a deal that offered "historic pay and residual increases, substantially higher caps on pension and health contributions, audition protections, shortened series option periods, and a groundbreaking AI proposal that protects actors' digital likenesses for SAG-AFTRA members".
"A strike is certainly not the outcome we hoped for as studios cannot operate without the performers that bring our TV shows and films to life," the organisation added. "The Union has regrettably chosen a path that will lead to financial hardship for countless thousands of people who depend on the industry."