Walking through the Nashville airport, I am surrounded by bachelorette shashes, sequined cowboy hats, guitar cases, and American flags. In many ways, it is just what you'd expect Nashville to be. The "Country Music Capital of the US" is legendary for music, brew tours, country tourism cosplay, and bachelor/bachelorette parties as far as the eye can see – mostly centered around Broadway, the major entertainment district. Dotted with honky tonks, celebrity-backed bars/restaurants, boot shops, and rooftops – Broadway is, as they say, quite a scene.
And I am not opposed to Broadway – it has its place –, but as I've spent more time in the city, I have been searching for the perfect medium. I want to be close to the action without getting stuck in pedal bar traffic or a gaggle of bridesmaids on the way back to my hotel.
That's why I love The Gulch. Situated within walking distance of downtown Nashville, The Gulch has a decidedly sleeker, more upscale vibe. The former industrial area is now a trendy and stylish sought-after neighborhood for locals and visitors alike. With incredible bars, restaurants, and shops, it is the perfect place to stay in Nashville, with access to everything you want or need.
I loved staying at the Thompson Nashville, which is directly in the action of The Gulch, on a recent trip. Here is why:
WHY IT'S AWESOME: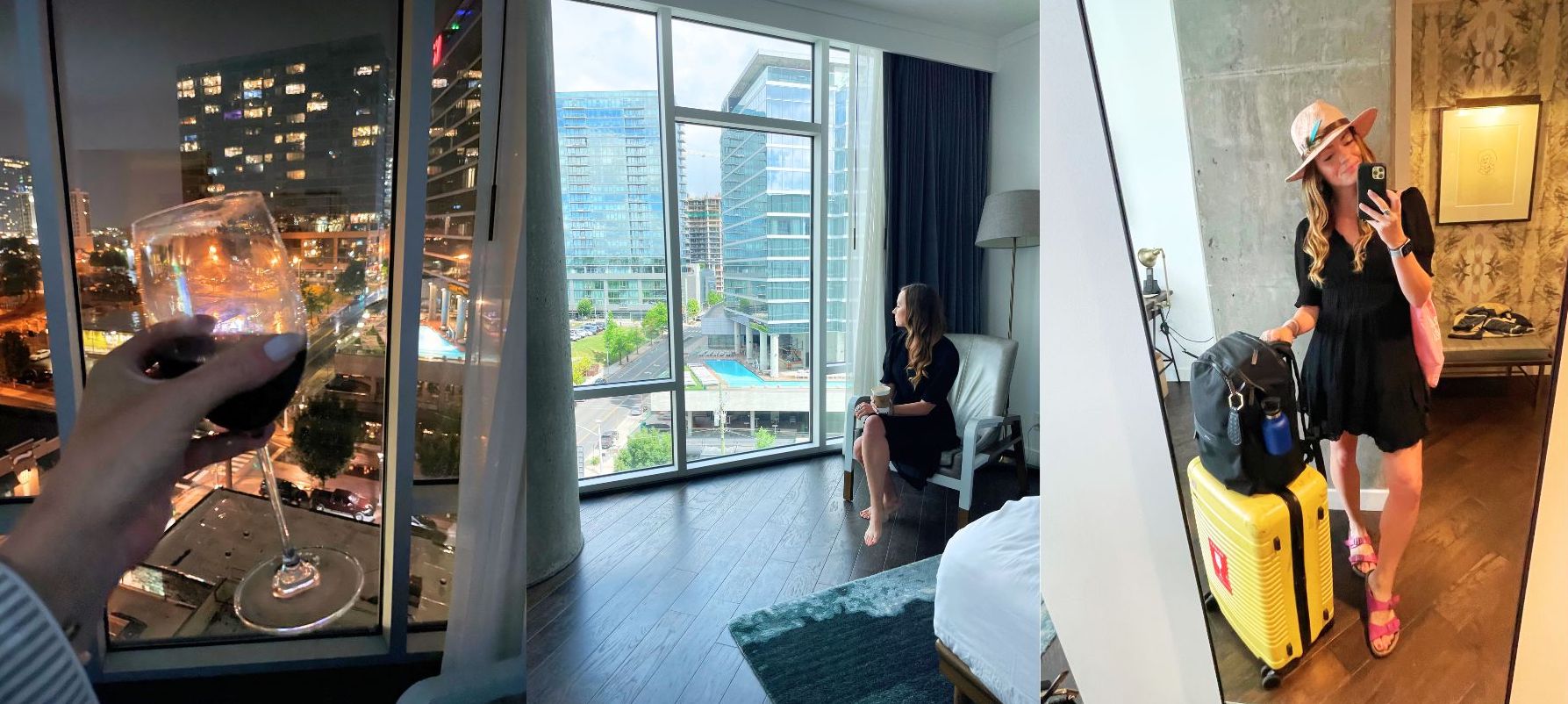 I love a hotel that has it all – while still feeling boutiquey and exclusive. Beyond just a place to sleep, but restaurants, bars, and lounge space — you get the idea. And Thompson Nashville checks all the boxes. The sleek design is evident the second you walk through the doors into the spacious lobby, then on to the rooms with floor-to-ceiling windows and modern design.
The customer service is impeccable, from check-in to coffee, drinks, and dinner. It lives up to its luxury description – without breaking the bank.
IN-HOUSE FOOD AND DRINK:
KILLEBREW COFFEE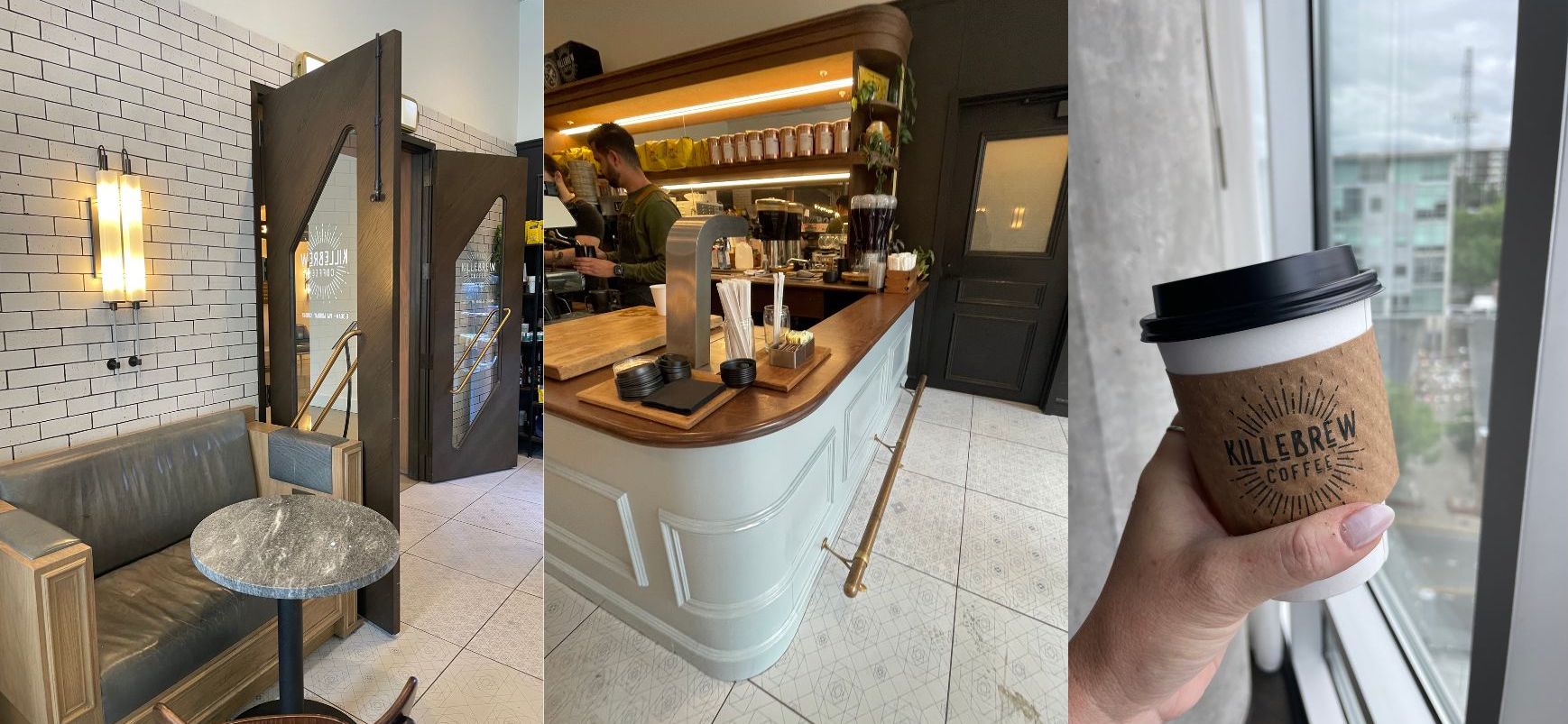 The Nashville-based Killebrew Coffee has a gorgeous physical cafe on the lobby level of Thompson Nashville. The popular coffee company — for locals and visitors alike — offers delicious coffees, small bites, and on-the-go fare. I loved my vanilla latte and biscuit with jam.
L.A. JACKSON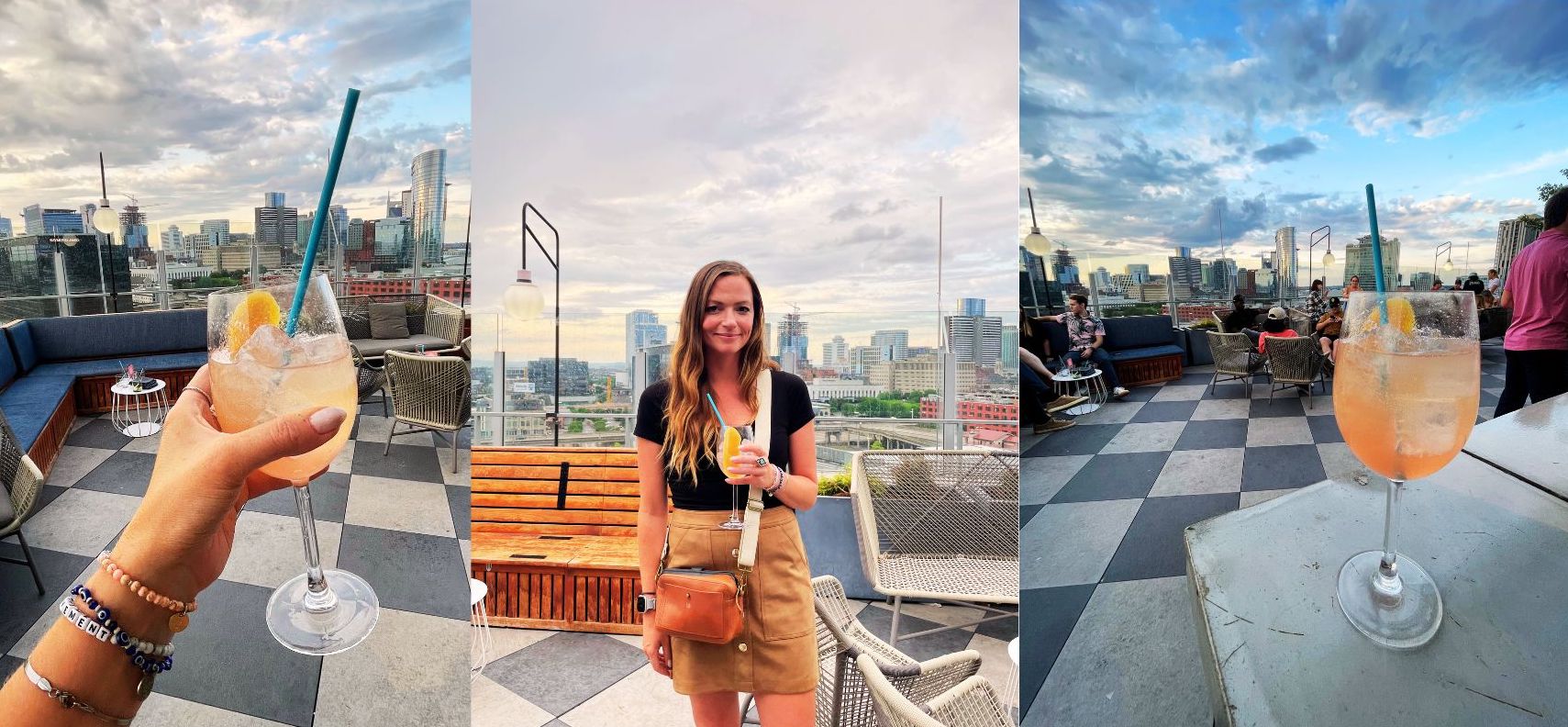 Nothing is better than asking a local where to go in a new place, and their recommendation matches what you've already planned. It's even better when it's just a few floors above your hotel room. That's just what happened with L.A. Jackson. The rooftop bar at Thompson Nashville was repeatedly recommended for great cocktails, panoramic views, and vibes.
After visiting, I completely understand why. The service was the best I had encountered on my trip, and my specialty cocktail was perfect. I loved watching a storm roll over the city before ducking into the well-designed space to mingle with the chill crowd.
MARSH HOUSE
As a solo traveler, I often find myself dining solo at upscale restaurants (it's a tough job, but someone has to do it, am I right?). But it's not as often that I immediately text my coupled-up friends after, exclaiming that they "HAVE TO have a date night here." And it wasn't just the result of the two glasses of the sommelier-recommended wine – it was the entire experience I had at Marsh House.
Service responsibly sourced and sustainable seafood with a Southern twist; I enjoyed the Blackened Swordfish with butter bean cassoulet, crispy rice, and herb aioli and followed it up with an espresso brownie that has been in my dreams ever since.
AMENITIES:
Digital Check In
Fitness Center
In-house restaurant, cocktail bar, and coffee bar
Concierge
Pet-friendly
EV charging
Rooftop bar
Luxury Sferra bedding
D.S. and Durga toiletries
ROOM TYPES:
Thompson Nashville has a wide variety of configurations within its 224 rooms. I loved staying in a corner King with incredible floor-to-ceiling window views, a comfy bed, mid-century decor, wood floors, and a luxurious bathroom with a rainfall shower. The honor bar, robe, and entryway were all elevated touches.
You can also opt for double rooms, and several suite types, including the 1,298-square-foot Penthouse.
BEST THINGS TO DO/EAT/DRINK WITHIN A 10-MINUTE WALK: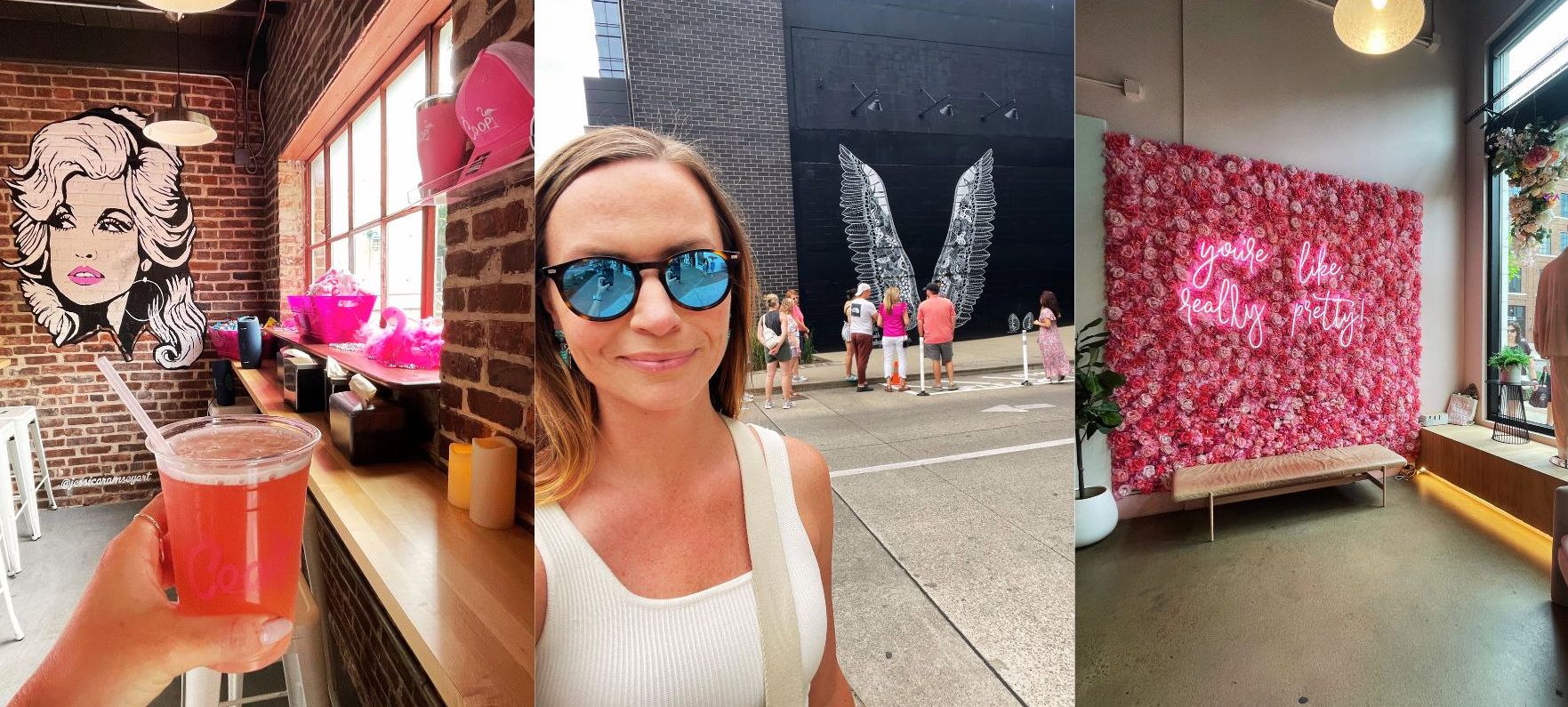 Explore The Gulch, of course! There is enough to keep visitors busy in this trendy neighborhood just south of downtown. Go shopping – stop at Rustler Hat Co. and customize a Stetson for a true Nashville experience – or stop by one of the many popular bars and restaurants. I loved getting pizza and sangria at Emmy Squared and a lavenderfrosé at The Co-Op Frosé and Eatery – yes, an entire bar dedicated to frosé. Great art galleries and murals are everywhere in The Gulch, making it an Instagrammer's dream.
BEST THING TO DO WITHIN A $10 CAB RIDE:
So I know I spent the last 800 words urging you to get off Broadway and into The Gulch, but if you have more time – I'd still pop over to downtown and the Broadway district. Thompson Nashville is within walking or a short Uber distance to the Nashville entertainment epicenter, where you can spend time at the Country Music Hall of Fame and Museum, Ryman Auditorium, or at one of the many honky tonks.
I loved visiting the Johnny Cash Museum – home of the world's largest collection of Johnny Cash memorabilia and artifacts, before heading next door for a meat and three along with live music at Johnny Cash Bar & BBQ (big Cash fan, what can I say?).
After a quick jaunt down Broadway, I popped into the impressive National Museum of African American Music – the "only museum dedicated to preserving and celebrating the many music genres created, influenced, and inspired by African Americans" – where I spent hours following the interactive exhibits and curated collections.
BED GAME: 9/10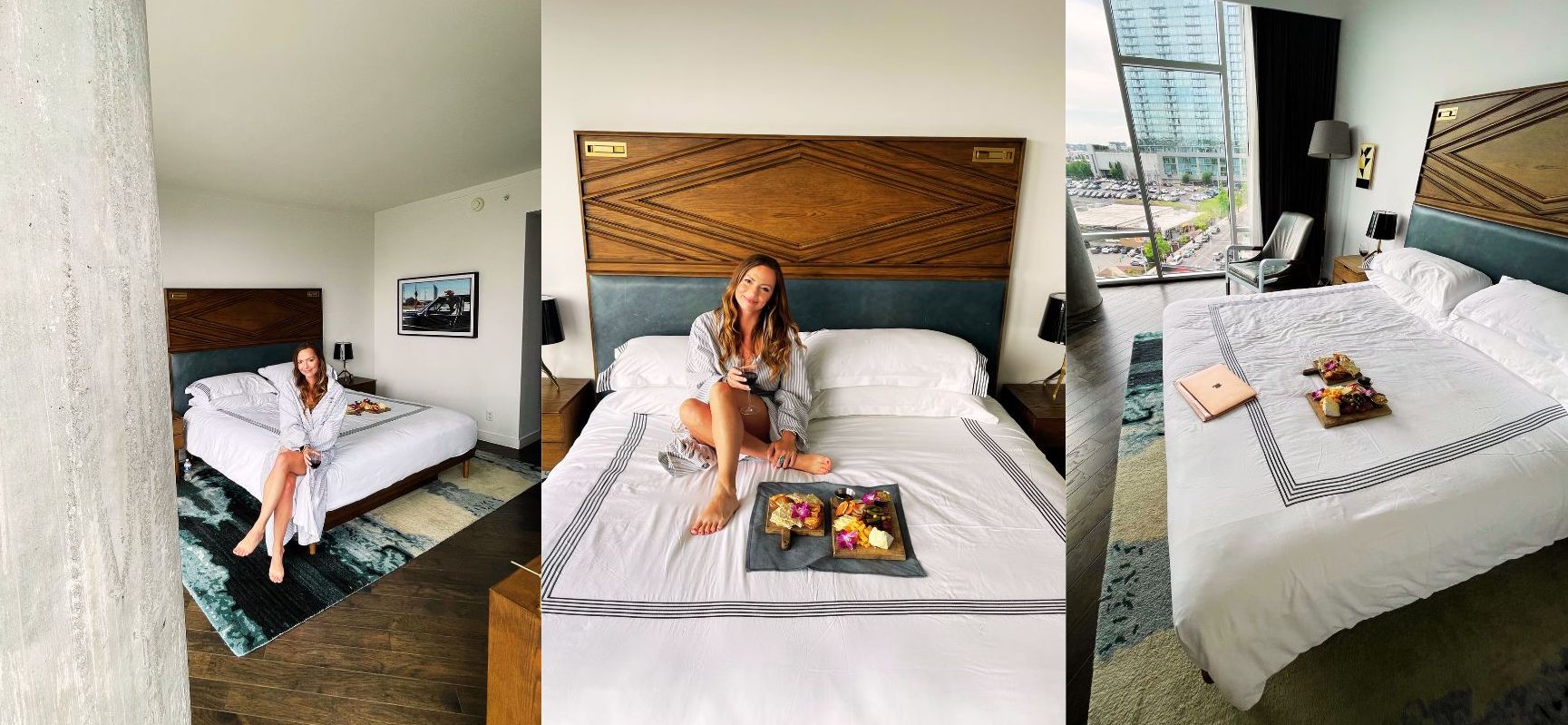 A hotel can be luxurious in aesthetics and have every amenity, but if the bed isn't right, it won't matter. I'm happy to report that the large King bed in my room at Thompson Nashville was the perfect respite after days of walking all over town in the sun. The mattress was perfectly soft, and the luxury linens felt like a treat.
The wooden headboard was stylish, and I loved having a city view from bed.
SEXINESS RATING: 9/10
This might be the highest I've rated a hotel in this series on "sexiness," but that is not a fluke. Thompson Nashville is refined and stylish while also having an air of sexiness that is hard to describe until you see it yourself. This is a place for singles and couples who enjoy luxury and service but want something special.
VIEWS/PIC SPOTS: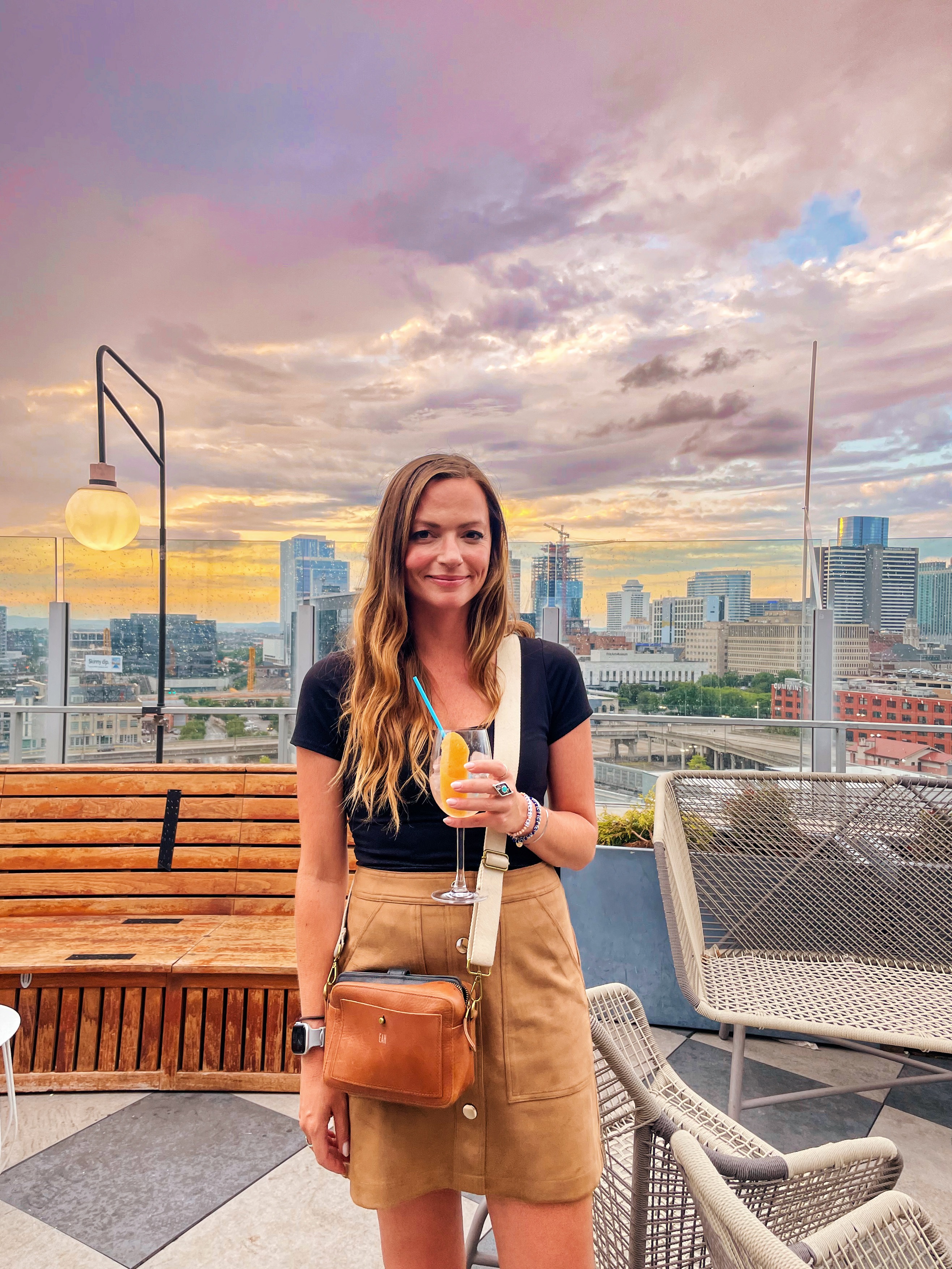 This spot is an Instagrammers dream, without being cheesy. That's how I learned about it – scrolling through social. The lobby is exquisite, the restaurant is upscale, dark, and moody, the rooms are light and luxurious, and the rooftop bar is the perfect spot to catch the sunset with a view. You really can't go wrong here.
BEST SEASON TO VISIT:
Nashville is a great place to visit in all seasons, but most of the action/festivals occur in April- October. If you aren't interested in the humid heat, I would aim for a spring or fall visit.
IF I HAD TO COMPLAIN ABOUT ONE THING:
There isn't anything to complain about here. It hit every box I was looking for – and then some – for a hotel in Nashville. There is no pool on the property – and with so much to do nearby, I understand why – but that may be important to some guests.
Book here.
INSTAGRAM IMAGES TAKEN AT THOMPSON NASHVILLE: