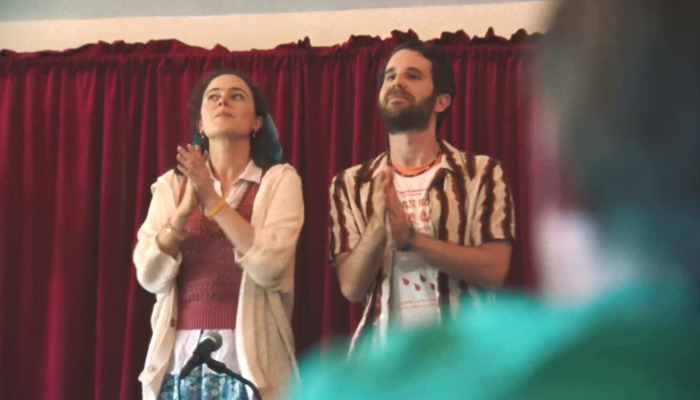 Theater Camp Review
Theater Camp (2023) Film Review, a movie directed by Molly Gordon and Nick Lieberman, written by Noah Galvin, Molly Gordon and Nick Lieberman and starring Ben Platt, Molly Gordon, Noah Galvin, Jimmy Tatro, Caroline Aaron, Ayo Edebiri, Nathan Lee Graham, Owen Thiele, Amy Sedaris, Patti Harrison, Bailee Bonnick, Donovan Colan, Vivienne Sachs, Alan Kim, Luke Islam and Jack Sobolewski.
Directors Molly Gordon and Nick Lieberman have created a truly entertaining mockumentary with their hilarious, laugh-out-loud crowd-pleaser, Theater Camp. It must be said that it takes a true appreciation of stage theater to really "get" all the jokes that this new film presents in a fast manner. Audiences should definitely listen attentively. That's because the jokes are flung at the audience quickly and energetically and will certainly keep audiences chuckling throughout. There's no really compelling plot to drive the movie. Enjoyment of the picture is completely dependent on the sheer zaniness that is occurring on screen throughout.
The charismatic Ben Platt and Molly Gordon star as Amos and Rebecca-Diane who are long-time staples of the theater camp that the movie showcases. Rebecca-Diane always carried a torch for Amos but he "came out" so that left them as just friends. But, they are best friends. Rebecca-Diane has Juilliard aspirations as well which will come into play later in the story line. This pair is the heart of the struggling camp whose owner, Joan (Amy Sedaris), has fallen into a coma. There are a lot of outstanding bills that could cause the camp to shut down. Those bills are not in the best hands as the confused Troy (Jimmy Tatro) is taking them on. He hasn't a clue as to how to handle them properly. In one scene, the lights of the camp shut off suggesting that Troy hasn't paid the utility bills.
There are a lot of talented actors sprinkled in the movie. Patti Harrison (always a hoot) serves as Caroline who is the chief competitor from another part of town who wants Troy to give up the camp. Caroline tries to persuade Troy to let it all go. The kids at Troy's camp love it, though. There is no shortage of memorable teachers such as Clive (Nathan Lee Graham) and Gigi (Owen Thiele) who make humorous remarks as they share their wisdom with the kids and adults at the camp. Ayo Edebiri plays Janet, a teacher Troy has brought on for the summer who teaches about masks in drama very unusually and has some suspicious credentials.
There are also some funny audition scenes where the kids make their presence known to the staff and the picture has cast some very talented child actors. The best of them are Alan Kim, Jack Sobolewski and Quinn Titcomb (she is very energetic, indeed). There is a lot happening here and that keeps the movie humorous at all times. Amos and Rebecca-Diane need to save the camp with a performance which they have but a few weeks to put on and all involved will have to work overtime to make sure the camp stays open especially with Caroline on the prowl.
Theater Camp shines in its examination of an upstate New York camp that has young children who strive for perfection in their art. Clive hysterically makes sure the kids are aware that only three percent make it and the rest end up in less fortunate places than on stage. What keeps the movie so entertaining is the bond between Amos and Rebecca-Diane. Ben Platt and Molly Gordon have fun with their roles ensuring the audience will be entertained throughout. Platt and Gordon have a rapport on screen that makes them quite likable.
While the last performance the kids put on is funny, there could have been a more substantial story line to keep all the jokes in moderation. Basically, the film rests on the premise that the camp could be shut down if the last show doesn't help the camp find a financial backer. There aren't enough subplots to keep the picture at the top of its game all the way through. That being said, the jokes carry the movie through to its conclusion. Live theater buffs may have a greater appreciation for the film, though, than the average viewer.
What kind of jokes does Theater Camp focus on? Just about any and all topics possible. One of the funnier bits talks about stockbrokers and drug use which definitely makes the movie geared toward teenagers and adults more than kids. A lot of the humor is adult-oriented but the overall fun nature of the movie could make it enjoyable for teens as well.
In the final analysis, Theater Camp has plenty of laughs throughout which make it a clever satire overall. It's a look at the way kids take their art so seriously with a focus on the early stages of love for the craft of acting and singing. Crowds will enjoy laughing together at the situations the movie presents making Theater Camp a film that should be seen in a theater with a crowd where it will play a bit better than at home.
Rating: 7.5/10
Leave your thoughts on this Theater Camp review and the film below in the comments section. Readers seeking to support this type of content can visit our Patreon Page and become one of FilmBook's patrons. Readers seeking more film reviews can visit our Movie Review Page, our Movie Review Twitter Page, and our Movie Review Facebook Page. Want up-to-the-minute notifications? FilmBook staff members publish articles by Email, Feedly, Twitter, Facebook, Instagram, Tumblr, Pinterest, Reddit, Telegram, Mastodon, and Flipboard.