Elton John and his husband David Furnish testified Monday on behalf of Kevin Spacey, who is facing a dozen charges of criminal sexual assault in London, saying the "House of Cards" actor only attended their annual charity ball once – and not the year one accuser says he was assaulted on the way to the Windsor event.
John and Furnish both appeared at the London-based trial remotely from their Monaco home to say Spacey only attended their annual gala ball once, in 2001, and have the photos to prove it, the Associated Press reported. One of the four men accusing Spacey of aggressive sexual advances said the actor grabbed his crotch on the drive to the event in Windsor in 2004 or 2005.
Spacey, who took the stand last week to testify on his own behalf, also told the court that he had only attended the ball in 2001. John said Spacey spent the night at their home after that ball, and confirmed his testimony that he bought a Mini Cooper auctioned on behalf of the Elton John AIDS Foundation.
Spacey is facing 12 counts of sexual and indecent assault from 2001 to 2013, including one count of causing a person to engage in penetrative sexual activity without consent. He has pleaded not guilty and became emotional on the stand last week, acknowledging that he is a "big flirt" and was in shock that one accuser in particular would "stab me in the back" years later.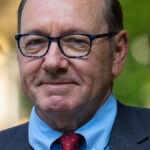 Spacey testified to a range of circumstances, admitting to a drunken, "clumsy" pass at one of the accusers, while labeling another's claims of fondling as "pure fantasy."
John testified that he remembered Spacey's 2001 appearance at the ball because "he arrived in white tie. He came on a private jet and he came straight to the ball," according to Variety. John also said it was the only time Spacey stayed over at his Windsor home, which was corroborated by Furnish's separate testimony.
Furnish also said that there was almost no way Spacey would have showed up another year and not been photographed.
Spacey maintains homes in both London and New York, where late last year he was found not liable in a civil lawsuit brought by "Rent" actor Anthony Rapp. He remains free on bail during the trial, now in its fourth week, and faces an undetermined jail sentence if convicted.