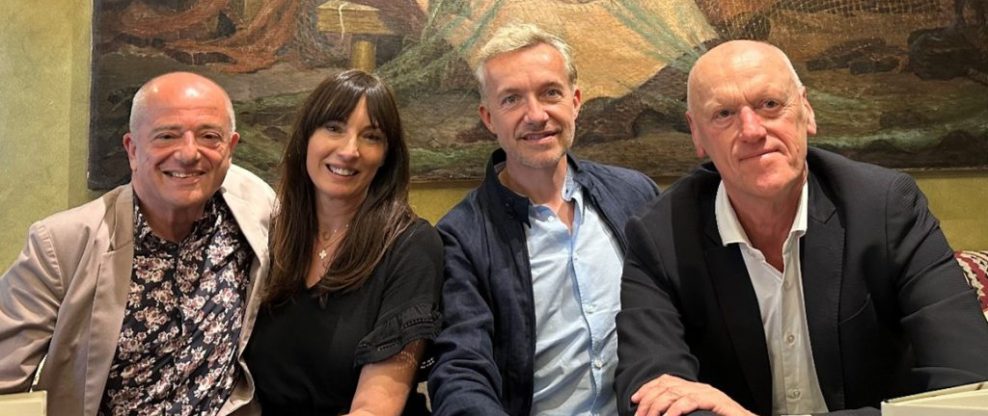 Left to Right – Steve Lewis (Adviser to CTM), Sarah Thorneycroft-Smith (Manager Fraser T Smith), Fraser T. Smith, André de Raaff (CEO CTM Outlander).
Netherlands-based music IP investment fund CTM Outlander announced the acquisition of of the catalog of one of the UK's most successful songwriters, Fraser T. Smith.
The deal encompasses songs recorded by artists including Tiësto, Jonas Blue & Rita Ora (Ritual), Stormzy (Blinded by Your Grace Pt 1 & 2, Audacity), Dave (Black, Environment, Lesley), Craig David (I Know You, When You Know What Love Is), Raye (Please Don't Touch) and more.
The deal also includes writer's share for most of the compositions, and the catalog of songs will be administered on a global basis by CTM Outlander.
"I want to thank Fraser and Sarah [Fraser's manager Sarah Thorneycroft-Smith] for entrusting us to look after these wonderful songs. Fraser is a once in a generation songwriter and we look forward to shining a light on these compositions for years to come. On a personal level, both Fraser and Sarah are both wonderful to work with, and we are truly humbled that they have partnered with CTM Outlander," stated André de Raaff, CEO, CTM Outlander Music LP.
Smith stated: "Knowing that my catalogue is in good hands is important to me, and André's years of experience in publishing means that my songs have not only been acquired but will be given the very best platform for the future as well".
"It has been a pleasure dealing with André and CTM Outlander, and I have the utmost reassurance that Fraser's compositions will be looked after and shared with the world for many years," added Sarah Thorneycroft-Smith.
The financial terms of the sale were not disclosed.