Note: This interview was conducted ahead of the onset of the SAG-AFTRA strike.
"Schitt's Creek" star Annie Murphy is finally getting the chance to dust off her iconic Alexis Rose voice for Freeform's new cult-centric adult animated series "Praise Petey."
"Petey came to me entirely perfectly developed, so I just really had to throw my voice in there, and you had a fully formed character," Murphy told TheWrap. "I got to take my Alexis voice out of the closet again, and I've been missing it."
"Praise Petey," which premieres Friday, follows the misadventures of "It Girl" Petey St. Barts, whose crumbling life — characterized by her plank of wood boyfriend cheating on her — takes a turn for the better before she receives an intriguing present from her deceased father: He's handed over the reins of his small-town cult to her.
It's not just Petey's voice that reminds Murphy of Alexis Rose, as both characters share an adventuring spirit and attraction to "wildly attractive men" — and their determination to get them.
"There's real nice overlap there — It was fun to bring back traces of Alexis, but then Petey is a very different lady," Murphy said, adding that Alexis has far more confidence than Petey does at the start of the show. "Petey just goes off-roading so far with the humor that would never in a million years have ended up in 'Schitt's.'"
TheWrap: You've now done a fair amount of voice acting roles. How was the experience of playing this role different without facial expression and body language?
Annie Murphy: I'm going nuts in the booth, and it's probably a good thing that you can't see that. It's so much fun to do voice work, because you get to be way more over the top than you would ever dare to be doing film and TV.
The strange thing, though, is that you're not acting with anybody, so it's a little bit solitary. That's the one thing I really missed about film and TV acting was just being in a scene with somebody. But no, you're all alone in your sweatpants, which is a big perk, looking like a total goof in the sound booth, and I had so much fun doing it.
When we meet Petey her life is basically in shambles. What do you think Petey needs to make a triumphant come back?
Some gosh-darn confidence, and belief in herself, and she gets there. What I like about Petey is that she's an incredibly flawed character, which I think is always the more interesting choice. So there's lots of room for growth and improvement. And she tries and fails a lot, but learns from her failures, which I think is also an important thing to do in life.
What do you think the wood plank boyfriend signifies?
I don't want to be too harsh on men, but if Anna's saying that the best guy in New York City is a plank of wood, it's a pretty bold and intentional statement.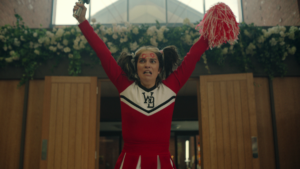 Petey had no clue about her father — or his involvement with the cult. What is her initial reaction to learning all of this?
It's a lot to process — first of all, that you have a dad, then you have a dead dad, and that you have a dead dad who's a cult leader. So there's lots going on.
Initially, she's quite horrified that her dad was the leader of a cult and immediately abolished human sacrifices, much to the dismay of some of the townspeople. She thinks that she's going to be this very morally perfect leader to these people, but then we start to realize that maybe she isn't as morally perfect as she thought that she was, and maybe she does kind of want to be a cult leader.
If you were in Petey's shoes, what would you do after learning that you've been put in charge of a cult?
I would immediately pass the baton to someone else — cult leader is not in my wheelhouse.
"Praise Petey" is a little bit different than some of the other adult animation shows out there. What did you find compelling about this story?
The animation gives such freedom. You can do absolutely anything you want, whatever you can imagine, you can create with animation. The animation, itself, is so vivid and beautiful and unexpected — the decisions made between script and watching it in a completed context [are] so cool.
Is there anything you can tell us about the rest of the season that you're excited for viewers to see?
It does not disappoint in the bizarre humor. I think it gets even more off the deep end, and it continuously surprises me the jokes that people gave permission to be in a TV show.
You also recently starred in a popular "Black Mirror" episode, "Joan is Awful." How do these two projects exemplify what type of projects you're looking for in the next part of your career?
I feel so lucky to have recently done a whole bunch of really cool projects with very, very talented people who are also very kind and collaborative. I hope that continues — I hope I don't get pigeonholed. I really want to do as many different kinds of roles and genres as I can, while people still want me to do it.
"Praise Petey" airs Fridays at 10 p.m. ET with new episodes available the next day on Hulu.