This Hollywood homicide was stranger than fiction!
To catch everyone up, a woman's dismembered torso was found in the dumpster area of a strip mall in Encino, California on Wednesday. Using surveillance video, police were quick to ID the victim AND a prime suspect, arresting a man named Sam Haskell for the murder of his wife. Sam, it turns out, is the junior of Sam Haskell, Sr., a retired Hollywood agent who repped some big talent like George Clooney and Dolly Parton. But something tells us their name will only ever be known in connection to this grisly crime. Because the more we learn about the murder of Mei Haskell, the more confounded we are!
Over the weekend, an absolutely mind-boggling detail almost fell through the cracks — which is exactly what happened with the murder investigation! See, police apparently got the heads up about the body parts much earlier — and chose to ignore it?!
Related: Las Vegas Teen Dead After Being Attacked By 15 Peers Outside School 
According to a group of day laborers spilling to NBC4 on Friday, Haskell's first attempt to dispose of the body after allegedly murdering his wife (and possibly her parents, who are still missing!) was to hire some help! Workers told the outlet they were paid $500 to haul away three large garbage bags from his home in Tarzana. He told them the bags were filled with rocks — but they weren't so cartoonishly dimwitted as he must have imagined. One laborer said, in Spanish (which we have no idea if Haskell speaks):
"When we picked up the bags, we could tell they weren't rocks."
The workers say the bags felt mushy and wet, like they were full of meat — about 50 lbs each. The lie and the feeling of the bags, none of it sat right with the workers. So just after about a block, they stopped and looked inside. One worker said:
"I started seeing body parts, a belly button. I was astonished. Of course, I felt bad. We had been tricked."
They drove back immediately and gave the bags back, trying to tell this man they didn't want to be involved in whatever was going on. Naturally they were terrified for their own lives after what they'd witnessed, but they just couldn't participate as accessories knowing what they were really doing!
Sam tried to tell them, they say, that it was all just a bunch of Halloween props. But they weren't biting. They left and drove immediately to the cops to report the crime. And they were TURNED AWAY!
First they went to the the California Highway Patrol station on De Soto Avenue in Woodland Hills. They say the CHIPs told them to go to the Los Angeles Police Department instead. At the LAPD Topanga Station, someone told them to leave — and instead call 911 from the courtyard.
Wow. People were still considered missing at the time! Time was of the essence here. And the cops just passed the buck? Why? Because they spoke Spanish? Because they were day laborers? These men were trying to do the right thing. JFC…
We've also seen it reported that officers did stop by the house after the 911 call — and failed to find any evidence. We have to wonder if we're going to learn that first "search" was lip service because the cops just didn't want to deal with it at the time. Because we know from the actual search that there was a lot to find.
Unfortunately, Mei's mother and father, Yanxiang Wang and Gaoshen Li, are no longer considered missing. Los Angeles County District Attorney George Gascón announced Monday that Sam Haskell, Jr. is being charged with the murders of both of them in addition to Mei. Presumably there were enough parts to identify all three… Just horrific.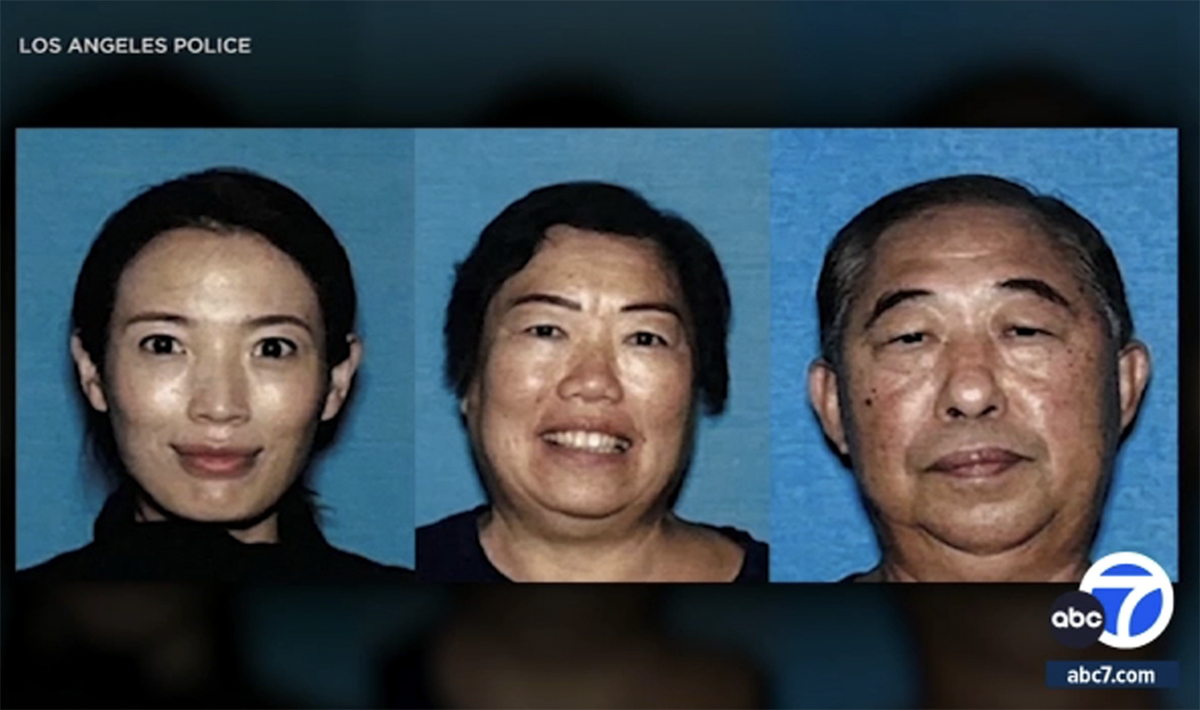 [Image via Sam Haskell/TikTok/ABC7/YouTube.]